In honor of "John Carter," ten awesome dude movies with dude's names for titles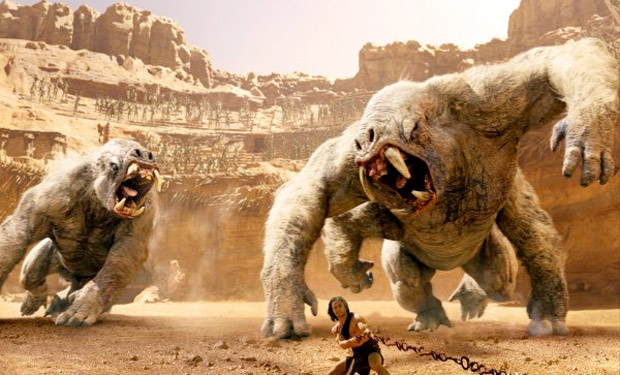 Posted by Scott Neumyer on
Ah, the good old "Dude Movie." What's that you say? You don't know what a "Dude Movie" is? Psh! Ok, well, if ladies have their "Chick Flicks" then it just seems right that guys should have their "Dude Movies." And March 9 marks the theatrical unleashing of the latest and greatest Dude Movie, "John Carter." Here's what you need to know: It takes place on Mars and it has the titular character battling all sorts of enormous beasts. Dude Movie! So have a peek at the 10 Awesome Dude Movies with Dude's Names for Titles that we've rounded up for you and be sure to let us know your favorite in the comments, dude.
---
"Rocky" (1976)
You tell me who's more of a man's man in Hollywood than Sylvester Stallone. I dare you. And don't even start with all the Chuck Norris business. Stallone is The Dude to end all dudes (not to be confused with "The Dude" – the legendary character played by Jeff Bridges in "The Big Lebowski"). While I'm sure "Rocky" has plenty of female fans, it really is the ultimate guy's story. The little guy from Philadelphia that no one thought could make it works his backside off (I mean, come on, the guy was punching frozen meat carcasses rather than your typical punching bag) to get to the very top of the boxing world by fighting heavyweight champion Apollo Creed (Carl Weathers). The end result doesn't even matter. "Rocky" is a rags to riches, come from behind, American Dream story that every man can relate to, and one that millions have probably tried to emulate in one way or another. Stallone not only starred in the classic (and the subsequent sequels), but he also wrote and directed the film. Now that's a guy who's worthy of the title of Ultimate Dude.
http://www.youtube.com/watch?v=nadUxOiWg5I
---
"Rudy" (1993)
We all know that guys love their sports films and they love them just a little bit more when they're underdog stories. The 1993 David Anspaugh film "Rudy" tells the story of Daniel "Rudy" Ruettiger who, despite just about everything in the universe aligning against him in the endeavor, dreams of playing college football at the hallowed University of Notre Dame. He doesn't have the money, grades, talent, or physical attributes one would normally need to not only get into Notre Dame, but also to play the game of football there. Oh, and to top it all off, the guy is dyslexic. What Rudy does have, however, is a whole lot of heart and determination. It gets him far enough to land a spot on the practice squad and, eventually, the opportunity to suit up with the team for their final home game. Spoiler alert: The team ends up carrying him off the field on their shoulders. Like you didn't see that coming. What you might also see is your pops weeping into his pillow at the end of the film just like every good man before him. Even tough guys can cry during Dude Movies. It's in the rulebook. I promise.
---
"Patton" (1970)
If there's a genre of film that guys love almost as much (if not more) than sports movies, it's war movies. Gather up a group of twenty of the toughest guys you know, put them in a room together, and ask them what movie they want to watch. Nine times out of ten it will either be a sports movie or a war movie. How fitting then that we find the 1970 George C. Scott classic "Patton" on this list. The biographical war film about U.S. General George S. Patton during World War II is a classic for a reason; it's an astonishingly good movie. From the iconic opening scenes of Patton in front of the enormous American flag to the final scenes with Patton walking his dog, the film is a masterpiece of the war genre and a testament to the incredible power of George C. Scott's acting ability. "Patton" is a Dude Movie through and through. It's one that has stood the test of time and should continue to do so for decades to come.
http://www.youtube.com/watch?v=Kh9S1Hk975U
---
"Happy Gilmore" (1996)
Remember way back in 1996 when Adam Sandler was still making funny movies? You know, way before that whole "Jack & Jill" fiasco of this past year. We sure do, and we remember it fondly for Sandler's role as the titular character of "Happy Gilmore" – a washout ice hockey player who realizes that he's absurdly talented at golf. It's a hilarious film that shows off Sandler's penchant for irascible outbursts that play just as funny as they are frightening. I mean, who else could believably punch out Bob Barker during a golf tournament. Sandler made anger hilarious and that's probably what we miss most about his latest films. That sense of fun is gone and it's all just… bad. "Happy Gilmore" was Sandler's first pairing with director Dennis Dugan, but the film is good enough to forgive the fact that their collaboration has produced nothing but pain and suffering (at least for viewers) since 1996. I know there are female fans out there that love Sandler, but this is a brash sports comedy that easily fits the bill of Dude Movie.
---
"Donnie Brasco" (1997)
The first of two films on this list starring Johnny Depp, 1997's "Donnie Brasco" is an excellent crime drama based on the real-life events of FBI agent Joseph D. Pistone's infiltration of the Bonanno crime family in New York City. Pistone (Johnny Depp) posed as a jewel thief expert ("The Jewel Man") and used the alias "Donnie Brasco" to gain access to one of the Mafia's Five Families during the 1970's by gaining the confidence of low-level mob hit man Lefty Ruggiero (Al Pacino). The problem is, the closer Brasco gets to the Mafia and the longer he ends up as a gangster, the more it starts to bleed over into his real personal life putting his entire family and the life of Lefty in jeopardy. Directed by Mike Newell ("Harry Potter and the Goblet of Fire"), "Donnie Brasco" is a terrific Mafia thriller that has only gotten better with age. Depp's performance is astounding and Pacino makes the perfect pair for the star. Violent and suspenseful and moving, the film is a nearly perfect Dude Movie. I mean, what guy doesn't like a good Mob movie, right?