"Team America: World Police" cast and puppeteers reunite for Los Angeles Animation Festival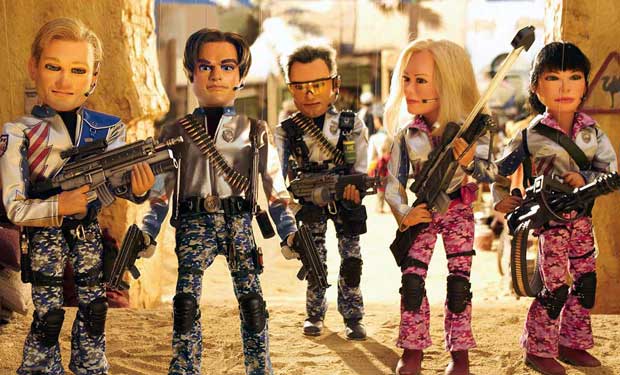 Posted by Terri Schwartz on
It's been eight years since "Team America: World Police" first graced theaters, and the movie has managed to remain as funny and scathing as ever. Though creators Matt Stone and Trey Parker have since vowed to never make a marionette movie again (they prefer to stick to "South Park"), it seems everyone involved in the film still appreciates what a landmark it was.
The Los Angeles Animation Festival honored the hilarious satire with a Saturday night screening at the Regent Showcase Theatre in West Hollywood. IFC was able to catch up with several of the voice actors and puppeteers responsible for creating the 2004 flick and ask them about their views on the film nearly a decade after it was released.
"I was happy to be involved in any way that I could, because that was a great work experience for me," said Phil Hendrie, who voiced the computer system I.N.T.E.L.L. I.G.E.N.C.E. and Chechnyan terrorist in the movie. "It's obviously a phenomenal film, so to be a part of a movie that is sort of history making, any time I can tag my name to that rocket I'd like to do that."
He added, "Every time that it's mentioned that I was in 'Team America,' people instantaneously recognize it. They know the voice of I.N.T.E.L.L.I.G.E.N.C.E., they know the voice of the terrorist, they know the film, so it's like my instant credibility button."
Daran Norris, who voices Spottswoode in the movie, had similar sentiments. In fact, he said he barely even needed to be asked once before he agreed to show up. Even though Norris has done plenty of voice work on Nickelodeon and in video games during his career, "Team America" still holds a very special place in his heart.
"It's the craziest thing. This is the most quotable and quoted thing I've ever been involved with. Friends of mine, people I've never met, family members, everybody quotes this character and does all the quotable lines," he said. "It's really crazy and wonderful."
Still, it's worth noting that "Team America" isn't technically animated, so it might not deserve a place in the festival. The main characters may be marionettes, but they're shot live action style with actual pyrotechnic explosions and effects. But puppeteer Steve Chiodo had an explanation for that.
"At first we wondered if 'Team America' really qualified as an animated film, but, as a company, we animate a lot of things," he explained. "In its broadest sense, puppets need animation, otherwise it's sort of hanging there. So we bring inanimate objects to life, no matter what the technique, so we think marionettes cover that."
Before the screening of the movie, Chiodo, his brother Ed, Norris, Hendrie and some other puppeteers took to the stage to discuss the making of the movie. It turns out that 80 puppets were created to perform as 200 characters, which is a juggling act that would be a major feat for any movie, and that's why we haven't seen an onslaught of puppet movies since "Team America's" moderate success.
"I think we all realize why we haven't seen many marionette movies; it's because they're impossible to make! It really was quite a production to mount all these puppets," Chiodo said with a laugh.
Still, there's a reason why "Team America" had stood the test of time and remains just as funny as ever. Making a film starring only puppets (and a couple of black cats and sharks) might have been an ordeal that neither Parker nor Stone wants to replicate, but at least it made one damn great movie.
The key to that was the two directors being very aware of the movie they were making before they made it. Everything from the infamous sex scene to Michael Moore's bombing of Mount Rushmore was planned and crafted to walk the fine line between entirely serious and comical.
"Trey and Matt said something very lasting for me. They said, 'Puppets doing funny things are not funny. Puppets doing serious things are funny.' And they were doing very serious things, and they were hysterical," Hendrie explained, and we couldn't agree more.
Do you think "Team America" is as good now as when it came out? Tell us in the comments section below or on Facebook and Twitter.