"Tales From Development Hell" reveals more about the "Lord of the Rings" movie starring The Beatles, and other films we'll never see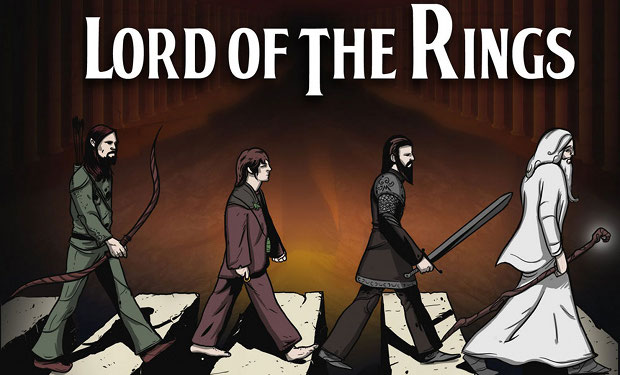 Posted by Rick Marshall on
In his new book Tales From Development Hell, author and screenwriter David Hughes takes readers on a journey to a place filmmakers hope their projects will never end up: the creative limbo known as Development Hell.
Using the stories of several high-profile, never-made films to illustrate how the Hollywood machine can kill the momentum of even the most plausible projects, Hughes' offers a fascinating look behind the scenes and into the boardroom as movies are conceived, re-conceived, written and rewritten, but never make it to the screen. From Darren Aronofsky's "Batman" movie starring Clint Eastwood to a film based on Neil Gaiman's Sandman comics, Tales From Development Hell recounts the tumultuous journey from pitch to purgatory for a long list of projects.
IFC spoke to Hughes about the book, and got his take on some of the projects he uses as examples, what their fates say about the filmmaking industry, and some of the surprises he discovered during his research. We also received an exclusive excerpt from the book describing one particular project that almost happened: a big-screen adaptation of J.R.R. Tolkien's The Lord of the Rings starring The Beatles.
IFC: David, can you give me a little background on the book and the research you did for it? How does one go about getting information on stalled projects like these?
DAVID HUGHES: I started work on my first book about unproduced films, The Greatest Sci-Fi Movies Never Made, more than a decade ago (the first volume was published in 1999), so it's kind of been an ongoing process since then — it's just been a matter of narrowing the field from the dozens of high-profile unproduced movies to the ones which I felt deserved a whole chapter to themselves.
IFC: What was the most surprising development story you unearthed?
HUGHES: I'm surprised it wasn't more widely publicised that Oliver Stone and James Cameron both had very different "Planet of the Apes" reboots in the works before Tim Burton landed the gig in 2000. In that case, from reading the various drafts involved, it seemed as though they went ahead and filmed the worst of all possible scripts — but then that's not as uncommon as one might think. I mean, if you leave Frank Darabont's "Indiana Jones" script on the shelf and make "Kingdom of the Crystal Skull," all bets are off.
For sheer entertainment value, however, the story of Ridley Scott's unmade Ebola-outbreak movie "The Hot Zone" takes some beating: Scott had Jodie Foster and Robert Redford as co-leads, and the rights to the originating article, Richard Preston's "Crisis in the Hot Zone" – and Warner Bros simply ignored them and went ahead and made "Outbreak," which had the advantage of not having to stick to the facts. You have to admire the chutzpah.
IFC: Did you find any recurring themes or similarities between the projects that often get relegated to development hell?
HUGHES: One word: fear. As Neil Gaiman — one of the countless writers, directors and producers I interviewed for the book — puts it: "Films carry with them a certain amount of fear because if you say 'Yes' to something and you're wrong, you're out on your ear, whereas if you say 'No' to something, you're never going to get into trouble, if everything is always defensible. So you wind up in development with people trying to make things more like things they know, because that is a defensible position: you will probably not get fired for it. Unfortunately that's why you wind up with films that look like other films."
Few people at the studio are willing to risk their job, their reputation, their parking space, their place at the commissary, or whatever, by backing the wrong horse. So they might throw another million at yet another screenplay, by whoever just had a big movie opening (and therefore seems to know what the audience wants), rather than write "the big check" for maybe $100, $200 million, and get it wrong. There is very little to choose between "Speed Racer" and "Pirates of the Caribbean" going in. It's a crapshoot.
IFC: As you were writing the book, did you find yourself revising any chapters as projects surfaced again or moved forward unexpectedly?
HUGHES: Yes, but those didn't end up in the book — the last thing I wanted was for a particular film to be in theaters as the book came out, unless of course the development story was still worth writing about. Funnily enough, as the book was getting ready to go to press, the screenwriters of the infamous spec script "Smoke and Mirrors" (about an ageing stage magician called out of retirement to discredit an Algerian mystic — based on a true story) suddenly sold a big script, "Pompeii," and told me to stand by for news about a revival of "Smoke and Mirrors." But I'm still waiting for the call, so…
IFC: Among all the projects you researched, was there a particular film that's had a rougher development period than the rest? Something that just seems unluckier than the others?
HUGHES: Something always seemed to come along to stop Walon "The Wild Bunch" Green's epic script "Crusade" being made: first director Paul Verhoeven lost his currency when "Showgirls" flopped; then Arnie lost a bit of his sheen when he had a couple of underperformers; then 9/11 made it virtually impossible to film in the Middle East (or to make a politically risky film sympathetic to Muslim factions in the 11th Century); and then Arnie – who was already too old to play the leading man, Hagen – went off to be Governor of California. That one is a real missed opportunity, and now there are millions of dollars stacked up against it, so anyone who takes it on will start with a really big bill. I doubt that will ever happen.
The development of Neil Gaiman's comic book series The Sandman also makes sobering reading – even when editing the book, my jaw dropped a couple of times – and the fact that the film hasn't been made at all is some kind of Pyrrhic victory of common sense/artistic sensibility over stupidity/commerciality. They really did try to make Sandman the next Batman, which — as Gaiman said — is a little like trying to make Great Expectations the next Batman.
IFC: You make it clear that there are many, many more reasons for a project to end up in development hell than whether it's good/well-conceived. What are some of the common reasons you found in your research?
HUGHES: Being "good/well-conceived" is rarely a reason a film gets made to begin with! There are almost as many reasons as there are unproduced films: perhaps a star gets nervous and jumps ship, leaving the studio holding the bag; maybe something similar opens, and doesn't do that well — or has a similar idea; a star becomes attached but isn't available for three years, by which time the moment has passed…
Frequently it's just that the numbers don't add up. I mean, I would have spent $100 million of my own money on "At the Mountains of Madness," the H.P. Lovecraft adapatation with Guillermo del Toro directing, Steven Spielberg producing, and Tom Cruise starring. But then someone would legitimately say that the film would have to do $500 million to break even, so it would have to be the biggest R-rated movie of all time. That's a hell of a big ask. Despite what "Field of Dreams" has taught us, if you build it they don't always come.
IFC: If there was one stalled project you came across in your research that you could push forward, which one would it be?
HUGHES: I do have a soft spot for "Crusade," "Smoke and Mirrors," and "At the Mountains of Madness" — but if I had to pick one I'd have to selfishly say "T.J. Hooker: The Movie" because I wrote it! I thought it was a really fun, viable "Beverly Hills Cop"-style action-comedy with real action and real comedy — not one of those "neither one thing nor the other" efforts like "Starsky and Hutch." But when "The A-Team" opened, T.J. Hooker creator Rick Husky put it back in a drawer, and now William Shatner is 80, and probably too old to play T.J. Hooker Senior opposite Kevin James or Will Ferrell, or whoever would be tapped to play the hapless T.J. Hooker Junior. Sigh.
IFC: What can aspiring writers/filmmakers learn from your book?
HUGHES: Hopefully that even the biggest filmmakers in the world can struggle to get a film off the ground! James Cameron, Steven Spielberg, Peter Jackson, Ridley Scott, Tim Burton…these guys have between them put billions of dollars into the Hollywood machine, and they still have a catalogue of unrealised dreams. So hopefully aspiring writers/filmmakers can take solace in the fact that they're not alone. It's certainly helped me to remain philosophical in my screenwriting career: I've come so close to having high-profile films produced, but I try never to get excited for longer than the duration of the phone call or the meeting — because anything else is just slow-motion suicide.
And now, an excerpt from Tales From Development Hell:
[The Lord of the Rings] had become one of the publishing sensations of the decade, and every studio in town was clamoring for the film rights. This time, it was another 60s phenomenon — The Beatles — who became linked to the project, a move apparently instigated by John Lennon. "We talked about it for a while," Paul McCartney told Roy Carr, author of The Beatles at the Movies, "but then I started to smell a bit of a carve-up because, immediately, John wanted the lead." According to Carr, however, Lennon was interested in the role of Gollum, with McCartney, George Harrison and Ringo Starr opting for Frodo, Gandalf and Sam respectively. Whether related to The Beatles' ambitions or not, United Artists successfully acquired the rights to film The Lord of the Rings in the autumn of 1969, for the sum of $250,000.

It was around this time that Heinz Edelmann, designer and art director of The Beatles' animated film Yellow Submarine, became interested in pursuing the idea of an animated adaptation. At the time, Edelmann was doubtful that stories of action, suspense and thrills could be depicted as straight animation, and proposed to make the film "as a kind of opera, or a sort of operatic impression", more closely related to Disney's Fantasia than, say, The Sword in the Stone. He intended to approach it "As one does an operatic version of any book," he told Outré magazine, "[to] sort of try for a distillation of the mood and the story, but not follow every twist of the plot." For instance, "One could have packed 300 pages of wandering into a five-minute sequence set to music."

Edelmann has said that his version of The Lord of the Rings would not have been stylistically similar to Yellow Submarine: "The artwork would have been completely different: much less colour, and unrealistic, but without the art nouveau touch Yellow Submarine has." Neither did Tolkien's original illustrations for the book, which were all based on medieval art, appeal to Edelmann, who saw the story more in terms of an Akira Kurosawa film. "If you look at all the fantasy films done in the last thirty years," he said in 2001, "there is a strong Japanese ethnic influence in the staging, in the buildings, and especially in the costumes. I think at that time we might have been the first to think in those terms. The Lord of the Rings is such a classic right now that almost no artistic freedom is possible. Back at that time, when it was new and Tolkien was still alive, it would have been a contemporary version, and I think that would have given us much more artistic freedom." Nevertheless, he added, "I would have loved to have done it. Sometimes I do still think about it, but it would have been an awful amount of work. Maybe it's better that it has remained just a concept."
"Tales From Development Hell" by David Hughes is on shelves now. Chime in below or on Facebook or Twitter.
(The Beatles/Lord of the Rings image courtesy of Geeks of Doom.)