IFC's guide to the best music at this year's SXSW festival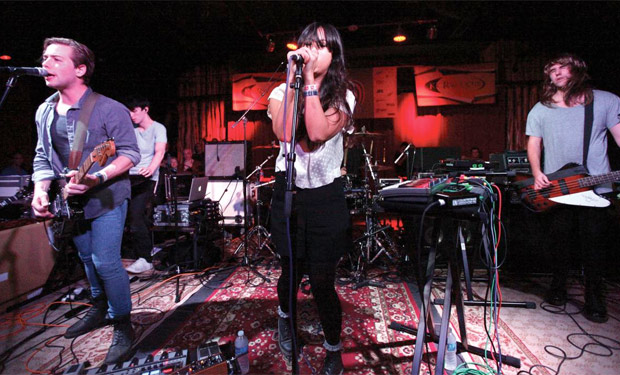 Posted by IFC on
By Chris Harris
The pilgrimage to Austin, Texas, has already begun for most of this year's attendees and performers. Bands are in vans, playing shows here and there as they make their way to the fabled home of South By Southwest, which has earned a much deserved reputation as one of America's most consistent music festivals.
Year after year, throngs of music fans descend on Austin to see the best that modern music has to offer. Scheduling one's SXSW experience is perhaps the most daunting task facing those lucky enough to have secured festival badges.
With a lineup as solid as Southby's, how does one chose between the gazillions of bands playing? We are here to help you wade through the 2,000-plus bands playing SXSW, so that you can kick back, relax, and stand in those serpentine lines because, at the end of the day, it's worth it for the amazing weather, the free beer and the kick ass music.
Of course, there is no chance you could possibly miss Built To Spill, the beloved Boise, Idaho, indie rock collective who've been crafting catchy, pensive guitar rock for more than 20 years now. They'll be playing the IFC Crossroads House at Vice Bar (302 E. 6th Street) on Wednesday, March 14. Catch them with Youth Lagoon and Le Fleur; the action starts at 5 p.m. with a two-hour "Free Beer Happy Hour," hosted by DJ Matt Jones. Also playing our IFC venue will be headliner Citizen Cope on Friday, March 16 at midnight.
May we also suggest checking out post-punk laptop rapper MC Lars while in Austin? Embraced by the indie crowd as equally as the emo crop, Lars will be taking the mike at Malaia (300 E. 6th Street) on March 14 at 1:00 a.m.
This year's SXSW will boast a ton of incredible metal bands, including California's Early Graves, making their first appearance at the fest with new singer John Strachan. Catch them with All Pigs Must Die (featuring Converge drummer Ben Koller), Tiger Flowers, Meek Is Murder, and Clinging To The Trees Of A Forest Fire at The Annex at 1808 (1808 E. 12th Street) on March 15; doors open at 6:00 p.m.
Exhilarating Chicago black metal outfit Nachtmystium will be playing not one, not two, but six shows during Southby, so you really have no excuse to miss them. They've booked two shows for March 14; we recommend seeing them with High on Fire at Barbarella Patio (611 Red River Street). If you miss them, they're also playing March 15 at The Asylum, March 16 at the Longbranch Inn (with party animal Andrew W.K.), March 17 at Lovejoy's (with Alcest), and March 18, also at Lovejoy's (604 Neches Street).
If metal's not your thing, perhaps Wallpaper might be more your speed. Wallpaper weaves genre-busting beats into brilliant, jaw-dropping party jams. The Bay Area MC will have the people bouncing March 14 at the PureVolume House (2nd and Trinity Street).
One of the highlights of this year's SXSW is sure to be Fiona Apple's much-anticipated set at the Central Presbyterian Church (200 E. 8th Street). The enchanting songstress is expected to debut material from what people are calling her own "Chinese Democracy"; Apple has been working on a new album for the last seven years, which is expected in stores before year's end.
Brooklyn's Bear In Heaven are one of this year's pre-SXSW buzz bands. The band — which blends elements of southern psychedelic rock with electronic music — will deliver two tight sets during Southby, both at the Mohawk Patio (912 Red River Street): March 13 at 11:00 p.m. and March 15 at 10:30 p.m.
Belgian alternative pop band Balthazar may also be worth checking out, if you're into infectious, groove-oriented rock with electro overtones. It's not often they're in the states, so it might be wise to see them at Tenoak (409 Colorado Street) on March 17 at 9:00 p.m.
We'd be remiss if we didn't recommend two mega-shows also happening at this year's gathering in Austin. New dad and arguably one of the hottest MCs to ever spit a rhyme, Jay-Z, returns to SXSW for a second straight year.
Jay takes the stage at Austin City Limits Live at the Moody Theater (310 W. Willie Nelson Blvd.) at 7:00 p.m. on March 12; for those not attending the fest, the show will be live-streamed on YouTube and will be rebroadcast on-demand from March 13 to March 19.
Making his first appearance this year is Lionel Richie, a music legend no one should be ashamed to admit they love. Seriously. Mr. Richie plays the very same venue as Jay, only the very next night. But don't go expecting to hear Lionel classics like "Three Times A Lady" and "Easy." Richie will likely be showcasing songs from his new country album, "Tuskegee."