Meet Your IFC @ SXSW Hosts: Comedian Chris Gethard and Yeasayer's Chris Keating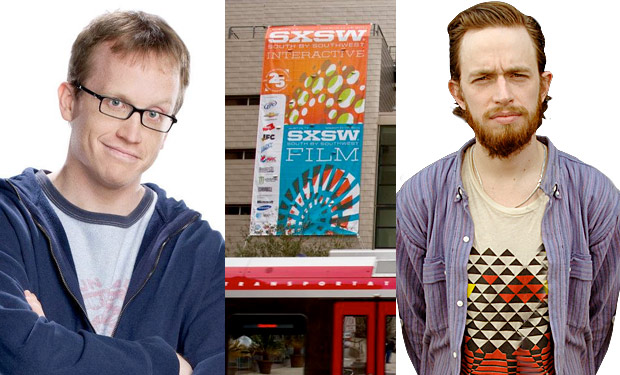 Posted by Melissa Locker on
It's the most wonderful time of the year. No, not Christmas, it's SXSW. That's right the annual music, film, and interactive conference that takes Austin, Texas by storm each year is gearing up to do it all over again. You know we're going to be there bringing you the best film interviews and music performances and even introducing you to the guys who fill the pipes and tubes of the internet. Check out the IFC Crossroads House schedule here and make sure to write down the change of address. This year we're staking out Vice Bar in the heart of the action at 302 East 6th Street. You'll want to make a note of it because we're have an incredible line up including Youth Lagoon, Built to Spill, Citizen Cope, Delta Spirit and a DJ set by Andy Rourke of The Smiths.
As anyone who has been to (or witnessed via live stream) SXSW, the volume of incredible acts, must-see bands, need-to-know start-ups, and buzzed about films is nothing short of awe-inspiring verging on overwhelming. Because we care, we want you to know that we would never leave you unsupervised and alone to face the massive the SXSW schedule. Nope, we are providing you (free of charge!) the best tour guides around to make sure you find the best that SXSW has to offer. So who are these hosts with the mosts? Leading you through the Film and Interactive portions of the conference is comedian Chris Gethard who you may recognize as the co-host of our Spirit Awards live chat. Taking your hand for the music portion is none other than Chris Keating of the indie darling band Yeasayer who put on one of the most buzzed about performances of last year's SXSW. Don't say we never did nothing for you.
Chris and Chris took some time out of their busy schedules making people laugh and dance respectively to answer some very important questions about SXSW.
Ten Questions for Chris Gethard:
Who has the best tacos in Austin?
I don't know who has the best tacos in Austin! I will find out while I'm in town. I can say that in my time passing through Austin in the past, I've found out that Threadgill's has the best chicken fried pork chop. Pretty psyched to try that one again.
What is your favorite doughnut from Gourdough's? (If you haven't been there, you are doing Austin wrong and I will take you when we are down there.)
Apparently I am doing Austin wrong. Please take me when I am down there.
What films and panels are you most excited to see?
I am watching a lot of films as part of my duties for IFC, and was super psyched to get an advanced copy of Nelson George's documentary on Magic Johnson. I'm a big NBA fan and loved it. Being that I'm already throttling through a bunch of flicks for the job, any films I manage to watch on top of that while in town will be icing on the cake and what not. I just want to get down there and hit the ground running, which is probably a really bad plan, but that's my goal – stumble into as much cool stuff as possible while in Texas.
How many times have you been to SXSW?
This will be my first time at SXSW. I've been to Austin a few times before and always found it to be one of my favorite places in America – the only city I can imagine living in besides New York. And that was without SXSW. I can't imagine how fun this town is going to be with all this nonsense going on.
What is your current favorite Tumblr?
My friend Jake Fogelnest, who is a DJ at Sirius radio thsese days, runs a very entertaining tumblr. Most of it consists of his views and recollections on pop culture, plus him getting into dozens of fights with teenage followers of his. I dig that. I respect it.
You're hosting the interactive portion of SXSW for IFC, what does your browser history look like? Would you let your mom see it?
I would absolutely not let me mom look at my browser history. That's an insane question. I barely want to look at it myself. It's got a lot of NBA blogs, comedy nerd websites, Google searches of myself, and all the other stuff you would expect. Yes, even some of that stuff.
What was the last movie you saw?
Project X. My girlfriend was convinced it was going to be good. I was unconvinced. I remain unconvinced.
Breakfast tacos, yes or no?
Breakfast tacos? Maybe. Breakfast burritos? Hell to the yes.
Did you get Kraftwerk tickets?
Nope. This year I will unfortunately not get to ride the Autobahn.
Who are you excited to meet at the IFC house?
Anyone who will talk to me. I am a shy, nerdy dude and I'm psyched and flattered to be a part of things.
---
Ten Questions for Chris Keating:
Who has the best tacos in Austin?
I like Torchys. The one in the trailer park.
How many doughnuts can you eat in one sitting?
How many doughnuts can I eat in one sitting? Who am I, Rush Limbaugh? One Doughnut is plenty.
What bands are you most excited to see?
The ones that the blogospere agrees are "hip" and "new" and "the next big thing"
How many times have you been to SXSW?
This is lucky #4
Is Yeasayer playing shows this year? If so, how many?
We are playing 9 shows, each day, in every aisle of whole foods.
Are you a Fred or a Carrie?
I'm a Cred Farrie
Are you the father of Snooki's baby?
I use 2 condoms when fornicating with anyone from The Jersey Shore
Breakfast tacos, yes or no?
Eh…. Whatever.
Did you get Kraftwerk tickets?
No. Stop rubbing it in.
Who are you excited to meet at the IFC house?
The Boss.