SXSW 2012: Ziggy and Karen Marley explain why fans should watch "Marley"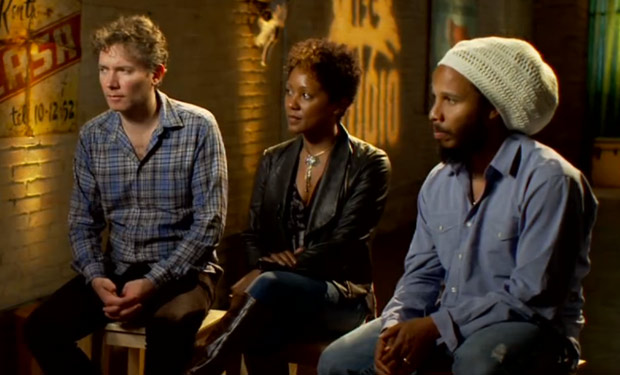 Posted by Terri Schwartz on
It's been more than 30 years since beloved reggae musician Bob Marley passed away, but he still remains as relevant culturally as ever. At least, that's the angle that documentarian Kevin Macdonald took when he made his film "Marley."
He premiered the documentary at SXSW alongside Marley's children Karen and Ziggy, and the three of them caught up with IFC at the festival. They explained why they feel now is still a good time to tell Marley's story, even though he died in 1981.
"I wanted to tell his story because it's such an amazing, amazing life story, simply, but also because I don't think people have really taken on board how Marley is such a unique figure in the cultural history of the 20th century," Macdonald explained. "If you go anywhere in the world, you'll find people with Bob Marley t-shirts, singing his songs, playing his music. That cultural significance is extraordinary, so I thought, 'Why is that?'"
video player loading
.
.
.
The film shows Marley's good side as well as his darker days, but Macdonald felt that it was important to show both aspects of the "One Love" singer's life. "Otherwise it would be a puff piece and it wouldn't be a documentary," he explained. "I think nobody is perfect, and he's no different from anybody else in that regard. But I, having said that, I think I started the process of making this film as an admirer of him, an admirer of the music, and I ended up feeling like he was a heroic figure."
Both Karen and Ziggy Marley were happy with the end result of the documentary. They said they feel that "Marley" will give fans of their father the same feeling of closeness with him that they have.
"It humanized him a little bit more, so they'll probably fall in love with the man even more, and I like that because that's what I wanted," Karen said.
Ziggy elaborated, "This is not the icon Bob, this is my brother Bob, my friend Bob. I know who he is now. This is a guy that I knew, you know what I'm saying, instead of a guy that I idolize. This is somebody who did good things but still was one of my close buddies, so that's what the film does. And I hope people take that away, that feeling closer to Bob."
Are you looking forward to seeing "Marley" when it hits theaters? Tell us in the comments section below or on Facebook and Twitter.