SXSW 2012: Willem Dafoe talks training for "The Hunter"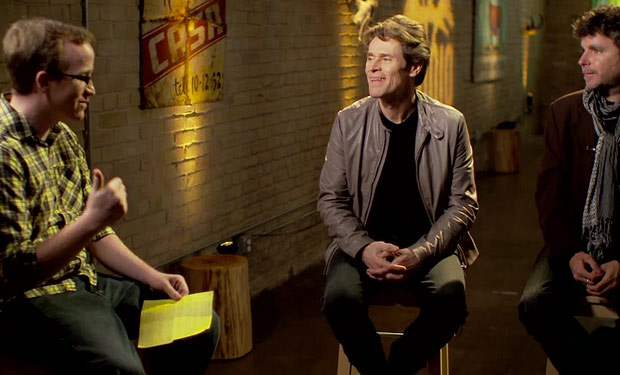 Posted by Terri Schwartz on
Willem Dafoe has won audiences over yet again with his new film, "The Hunter." The thriller follows him as mercenary Martin David after he is hired by a biotech company to kill a creature previously thought to be extinct. The movie required Dafoe to spend a lot of time in the Tasmanian wilderness, and also forced him to learn a heck of a lot about the craft of hunting.
The film premiered at SXSW, where IFC was able to catch up with Dafoe and director Daniel Nettheim to talk about the film. Even though it tells a bigger tale, "The Hunter" is often very simple in its storytelling.
video player loading
.
.
.
"It's kind of stripped down essential filmmaking when it's just one actor, simple actions, a landscape, and a camera," Dafoe said of the movie.
Of course, there's more than just Dafoe in the film. "The Hunter" also stars Frances O'Connor and Sam Neill, but spends plenty of time alone with Dafoe in the forest hunting a Tasmanian Tiger that was believed to be extinct. Dafoe spent a lot of time working with a bush survival expert who helped him prepare for the role. The expert taught him tips like how to de-scent himself so animals wouldn't notice him and more.
"[He taught me] everything from how to move through the bush to how to spot a trail, what kind of things he takes in a bush, what does he need, what can he find out there, and then there was a whole array of snares and traps that were quite intricate and very beautiful that he would make by hand, and he taught me how to do that," Dafoe explained. "It was very thrilling because when you learn something like that, that really becomes a key to the character."
"The Hunter" opened in Australia on September 29, 2011, and hopefully will come to US theaters near us soon.
Are you intrigued by Dafoe's preparation for "The Hunter"? Tell us in the comments section below or on Facebook and Twitter.