SXSW 2012: Willem Dafoe heads to the bush for "The Hunter"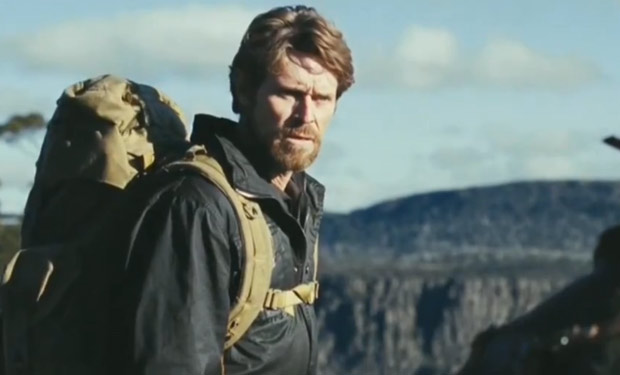 Posted by Terri Schwartz on
There's a lot going on in Willem Dafoe's new film "The Hunter," which premiered earlier this week at SXSW. The movie, which is helmed by Australian director Daniel Nettheim, tells the story of a man hired to kill the last living Tasmanian Tiger. Since most American audience members might not know much about the now-extinct animal, Nettheim gave IFC the rundown on its backstory.
"It was eventually hunted to extinction by colonial settlers," he explained. "This is the premise, the starting point, for our story about a man, a mercenary played by Willem, who is sent to track down what is supposed to be the last living Tasmanian tiger.
Dafoe's character is hired by a biotech company to recover Tasmanian Tiger tissue and organ samples for them. He pretends to be a scientist and stays with a family that might or might not know something about the supposedly extinct creature. But Dafoe spends much of him time in the woods performing scenes only with himself and his traps for the Tiger.
video player loading
.
.
.
"I'm playing scenes, I'm just playing them with my tools, myself and my landscape," he explained. "It's kind of like stripped down essential filmmaking when it's just one actor, simple actions, a landscape and a camera."
Unsurprisingly, Dafoe's name was towards the top of the list of actors that Nettheim wanted for the role.
"Very early on when I was writing scenes, and it always helps when I'm writing to picture a face, so I had Willem's face in mind," he said. "I think that I'd seen an old still from 'Platoon' of Willem's face surrounded by greenery, and it just seemed like a great fit."
So what should audiences know about "The Hunter" going in? "It's a beautiful human story," Nettheim said. "So, yes, it's a man looking for a tiger, but this is a man undergoing a profound transformation of character. So it's first and foremost a human story."
Are you interested in seeing "The Hunter" when it comes out in theaters? Tell us in the comments section below or on Facebook and Twitter.