SXSW 2012: Nick Offerman and his co-stars discuss "Somebody Up There Likes Me"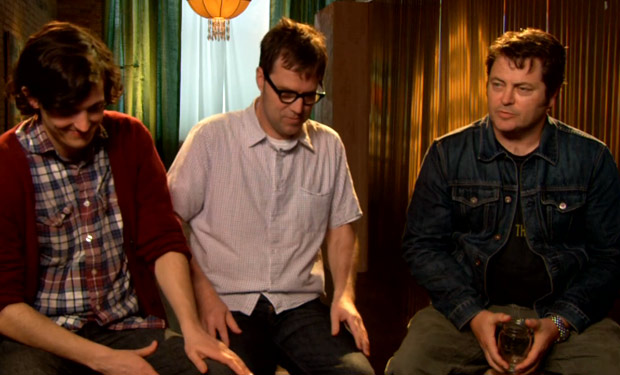 Posted by Terri Schwartz on
After hearing how Nick Offerman gets naked and lets his mustache steal the show in this year's South By Southwest submission "Somebody Up There Likes Me," it's hard to resist the desire to see the film. IFC caught up with Offerman, his costar Kevin Poulson and writer/director Bob Byington at SXSW where they explained the general plot for the movie.
"It's the story of this handsome young fellow played by Kevin Poulson, a character named Max who's 35 years in his life, and sort of how life passes him by while he's not paying attention," Offerman said. "Much of that involves a couple of incredible, beautiful, talented young ladies played by Jess Weixler and Stephanie Hunt, and I take my pants off."
The movie met a great response, and a large part of that was because the cast had a great sense of chemistry. Turns out that Byington had written Offerman and Poulson's characters a certain way to draw out the best elements of their acting abilities.
video player loading
.
.
.
"The film was written expressly for these two gentlemen, and I've worked with both of them enough that I have a sense for what I'm going to do with them," he explained. "Keith is more of a musician kind of performer than he is an actor. Nick is a very well-trained actor. And they do have a chemistry as a result."
Byington and Poulson had been to SXSW before for their previous film together "RSO [Registered Sex Offender]," but Poulson had had a long-standing relationship with the festival.
"I used to volunteer for South By because I used to live in Austin for about eight years and I used to be part of the selection committee and write programming and things like that," he said.
And, as an Austin native, Byington also has had a long relationship with SXSW. But he said this time around there was no negative response to an Austin-native submitting a film in the festival.
"There's no sense of being even remotely compromised by bringing a film here," he said. "In 2008 I premiered a film here ['RSO'] and there was a slight sense that we had gotten in primarily because we were a local film. We aren't carrying this stigma into this festival which is nice. It feels like a national festival finally."
Are you excited to see "Somebody Up There Likes Me"? Tell us in the comments section below or on Facebook and Twitter.