"Sleepwalk with Me" director-writer-star Mike Birbiglia details the film's true-life origin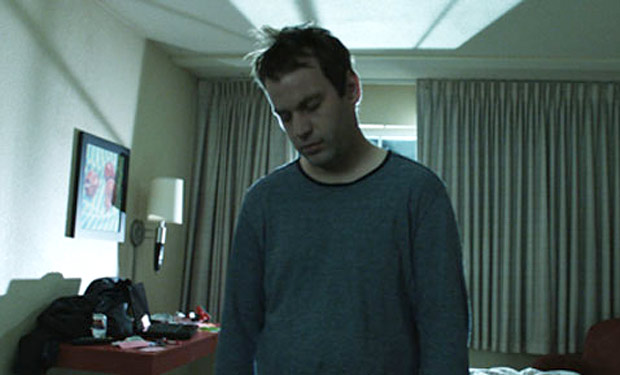 Posted by Terri Schwartz on
Considering the fact that "Sleepwalk with Me" is based largely on comedian Mike Birbiglia's own life, if should come as no surprise that you can find his stamp all over it. Birbiglia starred in, directed and wrote the project, and also joked to IFC that he was the gaffer, the bus boy, the costume designer, the make-up artist and the person in charge of craft services on the film.
"Sleepwalk with Me" made its big premiere at SXSW and IFC was able to catch up with Birbiglia and producer Jacob Jaffke to talk about their inspiration for creating the project. As mentioned earlier, much of the basis for the story comes from Birbiglia's own life.
video player loading
.
.
.
"It's a film about this character loosely based on my life, so it was originally a one-man show, of a guy who is kind of in denial about various things in his life, his sleep disorder, his failing relationship with his college sweetheart, and his failing career," Birbiglia said. "And it's kind of about how that denial mounts to a point where it nearly kills him."
And the denial once almost killed Birbiglia as well. Jaffke explained how it's Birbiglia's real-life experiences that drive the heart of this movie.
"Something that has real, actual stakes is engaging, dramatically speaking, and I think the comedy comes from how we respond to those life-threatening situations, how we look at the world," he said. "Mike has an exceptionally unique voice in that way, where he's like, 'I almost died, but it was kind of funny.'"
Because this film does draw on its director/writer/star's personal experiences, there was a certain balancing act required to make sure the creative and business decisions regarding the film didn't ruin anything significant in its story.
"I think some of the challenges along the way are my job kind of compromises some of the art, and to do it in such a way that you're not compromising the vision and you're being true to what the filmmaker wants to do," Jaffke said.
Are you intrigued by the real-life implications of "Sleepwalk with Me"? Tell us in the comments section below or on Facebook and Twitter.