SXSW 2012: Reggie Watts explains his unique comedy style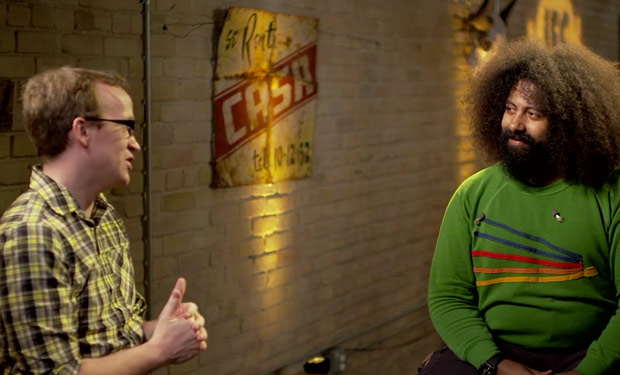 Posted by Terri Schwartz on
There's a lot to be excited for when IFC's new show "Comedy Bang! Bang!" comes to a television set near you in June. Chief among those reasons is the inclusion of comedian Reggie Watts, who many were first introduced to when he opened for Conan O'Brien live tour in 2010.
IFC caught up with Watts at SXSW where we talked to him about his unique brand of comedy. If you haven't heard of Watts before, you're in for a treat (check out "Fuck Shit Stack" for an example of his hilarity). Watts' unique blend of comedy and music (and his insane array of accents) makes for an experience unlike any we have ever seen. So we were curious how he built up to that point in his comedy career.
video player loading
.
.
.
"It really started in high school for me. I was an only child, so I used to dance a lot in my basement, like to Michael Jackson records and Billy Ocean and stuff, and I used to sing and I used to make fun of songs a la Weird Al Yankovic," he explained. "And so I incorporated elements of that into my act in high school for Drama. So I could just get up and improvise these ridiculous characters and sing songs."
But that was just where it started. Brooklyn-born Watts moved to Seattle in 1990 and ended up staying there for three years. During that time, he was exposed to a wide array of music and comedy groups that helped lend themselves to created the brand of comedy he performs today.
"[I] lived [in Seattle] until 2003. In that time I was mainly doing just music. I was in punk rock bands, heavy metal bands, world music bands, jazz groups, any type of music that would take me. I just love music," Watts said. "And in that time I did some stage comedy and I had a lot of fun with that, but then I ran into Stella, the Stella shorts, the original, and I was like, 'What is this?' It blew me away. I was like, 'This is the type of comedy. This is my comedy.'"
Check out a sneak peek of "Comedy Bang! Bang!" and make sure to tune in to IFC when it premieres in June.
Do you find Reggie Watts's brand of comedy funny? Tell us in the comments section below or on Facebook and Twitter.