SXSW 2012: Nick Offerman's mustache steals the show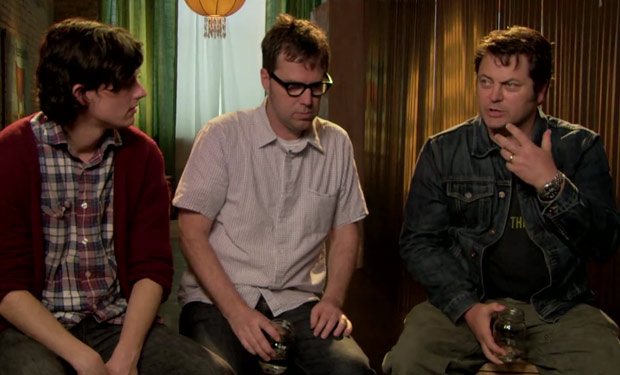 Posted by Terri Schwartz on
There's a good chance you know Nick Offerman's facial hair better than you know him as an actor. The man best known as Ron Swanson in "Parks and Recreation" has frequently been defined by his mustache to the point that he is even selling a limited edition moustache comb on his personal wood-working website.
"I'm sort of the vehicle for my facial hair. I mean I'm sort of happy to ride the coattails of my beard," Offerman deadpanned when IFC caught up with him at SXSW.
video player loading
.
.
.
The comedian was there to promote his new film, "Somebody Up Theres Likes Me." But in this new film, Offerman sports a pretty intense beard instead of his token Swanson mustache.
It's worth noting that, in this interview, Offerman doesn't have any facial hair at all. Hopefully that's because of some hilarious new storyline in "Parks and Recreation," but in all likelihood Offerman just didn't want to be defined by it in his real life like he is in his acting. That being said, Offerman admitted that he is totally okay being the man behind the mustache.
"I mean, I went into theater school because I love the sort of Lon Chaney side of acting, so I'm glad I have the ingredients to look like some different sort of troll in everything I do," he said.
We applaude you for succeeding, Mr. Offerman.
Do you find Offerman's facial hair as hilarious as we do? Tell us in the comments section below or on Facebook and Twitter.