Our top 20 movies to see at SXSW this year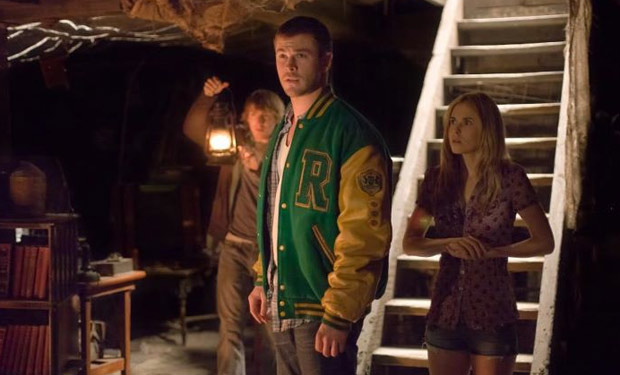 Posted by IFC on
By Jordan Hoffman
Last year I saw 26 films at South By Southwest. I also ate a dinner plate-sized donut covered in bacon and maple icing. Yeah, it's not a festival for the weak.
This year's lineup looks incredible – and a little intimidating. When you consider that SXSW is also loaded with music events, panels with all sorts of industry mavens and viral interactive opportunities (i.e. gorgeous young women and men smiling and shoving apps in your face) it can seem a bit overwhelming. Luckily, you have us.
I'm gonna' go easy on you and give you 20 films to see because a) it isn't, like, your JOB to see as many movies as possible and b) there are a lot of awesome vinyl shops and kimchi taco trucks you need to check out while you are in Austin.
---
"Cabin in the Woods"
Everything you've heard about this movie is true, and if you've heard nothing that's even better. Drew Goddard and Joss Whedon take a lifetime of genre movie love and put it all up on the screen. Richard Jenkins and Bradley Whitford are fantastic as the. . .well, to tell you who they are would be spoiling it. Just trust me – you want to see this movie and you want to see it soon, before the hype (and the spoilers) become unbearable.
---
"Casa de Mi Padre"
Forbidden love and criminal intrigue set in a family-owned Mexican ranch. Yeah, okay. . .sounds like it could be good, I guess. Did I mention this Spanish-language film stars Will Ferrell and is written and directed by SNL and Funny or Die alum? Okay, who's ready for tequila shots?
---
"Los Chidos"
Another Mexican film, this one set in the fabled world of roadside tire repair shops, "Los Chidos" shows how the appearance of a stranger can slowly change the ecosystem of any controlled group. Written and directed by Omar Rodriquez-Lopez, who you may know better as one of the two mad geniuses behind the psychedelic jam/doom-rock band The Mars Volta.
---
"21 Jump Street"
Up until just a few weeks ago I had little interest in seeing Jonah Hill and Channing Tatum revive "21 Jump Street," even if it was a comedic take. I mean, what, is it the 90s again? Didn't we learn anything from the "Beverly Hillbillies" movie? While I haven't yet seen the movie myself, at least four colleagues whose opinion I deeply trust have seen this and say it is genuinely funny in a clever and creative way.
---
"Fat Kid Rules The World"
Matthew Lillard (yeah, that's right, Shaggy from "Scooby-Doo") directs a movie wherein a suicidal fat kid rises to the top of the Seattle punk scene. It is based on a popular young adult novel by a woman with two initials in her name, so you know it's going to be big.
---
"Thale"
If "Trollhunter" taught me anything, it's that I want more Norwegian movies about mythical beasts. Two slacker-y crime scene cleaners uncover a hidden "Huldra," (a tailed forest nymph) kept hidden in a cellar. What follows looks to be simultaneously creepy and beautiful.
---
"The Sheik and I"
Caveh Zahedi's "I Am A Sex Addict" was one of the great "I can't tell if this is a documentary or not" films of the last five years, and it looks like he's got another one up his sleeve. On a commission from a Middle Eastern arts council he is challenged to make a film about "subversive art" on the one condition that he not say anything negative about an underwriting Sheik. Which is, of course, exactly what he does. "The Sheik and I" is probably the only film at this year's SXSW against which a fatwa has been declared.
---
"V/H/S "
I'm sure fatwas would be issued against some of the sick things in V/H/S, too, if audiences weren't having such a good time. I saw this anthology of found footage shorts at Sundance and can't remember the last time I had such a thorough group gasp. It's gross, it's funny and it's really, really scary – a midnight flick to see with an enthused Austin audience.
---
"The Source"
Perhaps it is just me, but I'll be forever fascinated with stories from the hardcore counter-culture of the late 1960s and early 1970s. Yeah, I don't need another montage of street demonstrations to the tune of "All Along The Watchtower," but this documentary expose about a California commune that made psychedelic rock and sold vegetarian meals on the Sunset Strip looks fantastic. One of its associate producers is named Isis Aquarian, so you know it is legit.
---
"John Dies At The End"
There are no shortage of places to grab a drink in Austin, so we feel safe in suggesting you have a few rounds with your buddies and then check out Don Coscarelli's supernatural sci-fi freakout. Based on the beloved cult novel, this dimension-shifting, consciousness-expanding paranormal detective story is the stuff midnight movie dreams are made of. And Paul Giamatti is in it, too.
---
"Jeff"
Not that I spend too much time doing a compare and contrast, but Jeffrey Dahmer is probably the creepiest of all the modern-era serial killers. This documentary takes a look at the people and places that occupied the unhidden side of Dahmer's life prior to his 1991 arrest. I doubt the Milwaukee Chamber of Commerce is thrilled with this one.
---
"The Hunter"
Willem Dafoe sent by a (no doubt nefarious) biotech firm to chase down the last surviving Tasmanian tiger. I'd tell you more about it, but I'm trying to keep myself unspoiled. How can this be bad? Sam Neill co-stars.
---
"Just Like Being There"
There's no point in going to SXSW if you don't get the poster. "Just Like Being There" dives deep into the subculture of gig posters with interviews of the artists and their ardent fans. The local heroes behind Mondo, the makers of high end movie prints, make an appearance, which ought to bring the house down in an orgiastic cry of "WANT!"s.
---
"Degenerate Art: The Art and Culture of Glass Pipes"
But if you want to get into subcultures, I doubt you are gonna' top this doc. Remember the time you saw a gravity-based bong that looked the hydra from the old "Dungeons and Dragons" cartoon? Now you can meet the artisans behind such functional masterpieces of craft. Screens not included.
---
"Keyhole"
The hyper-stylized Canadian film director Guy Maddin is back with what, by his standards, looks like something of a normal film. Jason Patric and Isabella Rossellini star in this moody tale of regret and gangsterism. It also features Kevin McDonald, and considering Maddin's previous "The Saddest Music in the World" starred Mark McKinney we'd like to salute the director for keeping the former members of The Kids in the Hall employed.
---
"Bernie"
Jack Black, Shirley McLaine and Matthew McCaConaughey team with Austin's favorite son Richard Linklater for this based-on-truth dark comedy about crime and punishment. If anyone can bring Jack Black from his transformation into the next Robin Williams it's Linklater.
---
"The Raid"
This Indonesian action picture concludes its festival tour in Austin after a successful run around the globe. Sony Pictures Classics is releasing it soon and then it will be a frat house favorite for years to come, but you owe it to yourself to see this video game informed, next level of martial arts masterpiece with a late night SXSW crowd. It has some of the most mind blowing, never ending action sequences since John Woo's "Hard Boiled."
---
"Frankie Go Boom"
I have no idea what this movie is about, but I'm just going to quote the blurb from the SXSW site. It makes its own case for being included on this list: "a flik by bruce about his little brother frank who's a crybaby fuck who shudnt do lame-ass emberrissing shit if he doznt want people 2 see it on the internet"
---
"The Comedy"
Tim Heidecker stars in a button-pushing non-comedy about a rich, slacker douchebag who behaves terribly and dares you to tell him to go to hell. A divisive, daring film that caused a mini-uproar at Sundance, but hasn't quite yet shaken me from its spell.
---
"Starlet"
You should see this movie because my friend Chris Bergoch co-wrote it. He's a really funny, smart guy – and nice, too. I'm sure it is also a good movie (Sean Baker, director of two terrific immigrant stories "Take Out" and "Prince of Broadway" made it with him) but I'd be deceiving you if I didn't disclose that I'm including this film because I'm proud of my friend. The blurb makes it sound like a "Harold and Maude"-type movie if Harold was a young slacker chick.
---