SXSW 2012: Danny Way talks jumping the Great Wall of China in "Waiting For Lightning"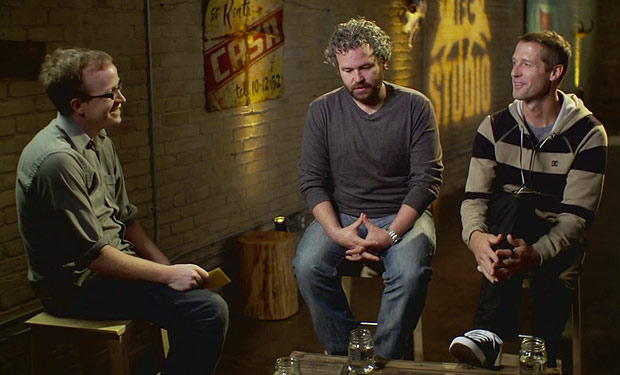 Posted by Terri Schwartz on
The documentary "Waiting for Lightning" premiered at SXSW earlier this week and told the life story of skateboarding legend Danny Way. The pro skateboarder has had some pretty huge accomplishments in his 36-year-old career, including jumping the Great Wall of China in 2005, breaking the land speed record on a skateboard in 2009 and winning numerous Big Air Gold Medals at the X Games.
IFC had the chance to catch up with Way and the documentary's director Jacob Rosenberg while we were at SXSW to talk about why they felt now was the time to tell Way's story.
"We really aim to tell an autobiographical, really narrative-driving film about his life trajectory that has taken him through all these great moments in his life and ultimately to the Great Wall of China with a ramp that he's created," Rosenberg said.
In the documentary, the people who know Way like Rob Dyrdek, Tony Hawk and Travis Pastrana would often describe him as being "determined." Way agreed that he often gets focused on things that he wants to accomplish, like creating a ramp that would jump over the Great Wall.
video player loading
.
.
.
"I think that that is a perfect reflection of the fire that people see in Danny's eyes, where when he has a goal, he is a fast train going towards that goal and nothing distracts him," Rosenberg said of his subject.
The film doesn't only touch on Way's professional achievements, though. It also shows much of Way's personal life and the troubled youth he had to live with. In a clip from the documentary, Way's brother talks about how the two of them turned to skateboarding to escape life at home.
"I have a lot of healing to do from a lot of the experiences that I've gone through, and I've definitely got some wounds still, it takes all those to start mending the past," Way said. "Having that positive feedback really helps me to feel like I've moved past a certain point in my life."
Rosenberg discussed why he thought "Waiting for Lightning" would be an important film for Way to make. He agreed that it was part of the pro skateboarder's healing process.
"It was very clear to me that this was Danny's gift to share to the world of being the type of skateboarder that he is, and that's the type of skateboarder who really is willing to take a personal sacrifice to achieve a goal on a skateboard," Rosenberg said. "And I think that the film really does a good job of explaining where that need comes from, and that's the balance. That's where some of the darkness comes in, and also where some of the brightest light shines."
Are you looking forward to watching "Waiting for Lightning"? Tell us in the comments section below or on Facebook and Twitter.