SXSW 2012: "The Cabin in the Woods" cast opens up about the film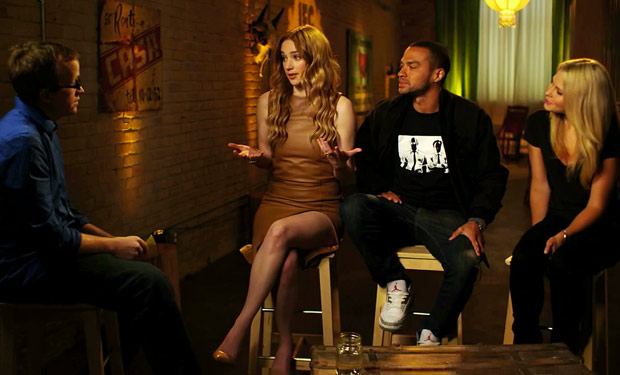 Posted by Terri Schwartz on
Judging by the insanely pleased critical response to "The Cabin in the Woods" premiere at SXSW, it seems like this is a film that we should all be looking forward to. It doesn't hit theaters until April 13, but don't think that there's much that will be spoiled in the meantime.
Based on what we do know of "The Cabin in the Woods," the film will end up being absolutely nothing like whatever you currently imagine it will be. It follows five friends who travel to a remote cabin in the woods, and whose journey quickly spirals out of control. There's also a mysterious group of people somehow involved with the cabin, two of whom are played by Richard Jenkins and Bradley Whitford.
Turns out the two groups don't have many scenes together. Whitford told IFC at SXSW, "Strangely, we didn't work with them at all.
"And that's why we are crazy about them," Jenkins joked, adding seriously, "If you watch an actor and you go, 'God damn,' you know it's good. And they did a fantastic job. I'm going to start hanging around with them if they'll have me."
video player loading
.
.
.
When talking to three of the younger leads, we found out that they were just as enamored with producer/co-writer Joss Whedon and director/co-writer Drew Goddard's script as Jenkins and Whitford were with their acting. Apparently it manages to be crazy ridiculous but also work as the set up for a great movie at the same time.
"I thought my imagination was pretty good. Joss' and Drew's imagination is so much better. And so from when you're reading the script yourself, you're like, 'This is awesome! This is awesome! This is awesome!' When you're seeing it on the screen, you're like, 'That is so much cooler!'" Anna Hutchison gushed about the movie's screenplay.
Jesse Williams did his best to define the movie, but had a difficult time doing so. "It's a comedy, it's a crazy thriller, it's got insane monsters, it's terrifying, and it's like an action film, and the twist," he explained. "So, reading it, I just became this huge fan."
Kristen Connolly agreed. The marketing campaign set "Cabin in the Woods" up for being a spin on classic horror films, and according to the cast (and, you know, everyone who's seen it) they succeeded.
"Anyone who's seen a horror movie has an idea of what some of those archetypes might be," Connolly said. "It was really fun to fully invest in them and then sort of turn them on their heads."
Do you plan on checking out "The Cabin in the Woods" when it hits theaters on April 12? Tell us in the comments section below or on Twitter.