SXSW 2012: Broken Lizard introduces "Babymakers" to audiences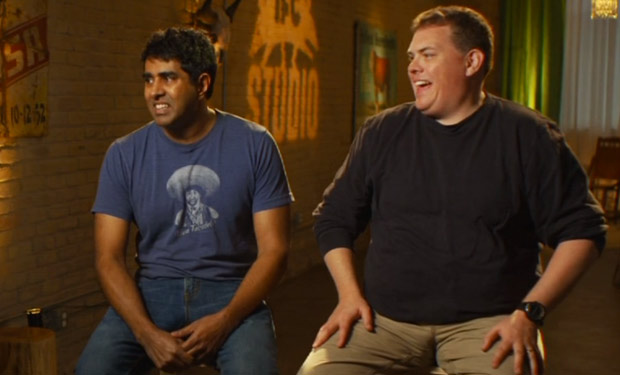 Posted by Terri Schwartz on
It should come as no surprise that Broken Lizard members Jay Chandrasekhar and Kevin Heffernan come up with some pretty ridiculous concepts for their films. As the men behind "Super Troopers," we didn't think anything they created could surprise us. But then they told us about their new film, "The Babymakers."
"It's about a guy who is trying to have a baby with his wife and he runs into some problems," Heffernan explained. "He remembers that a couple years earlier he had donated some sperm to a sperm bank, and he so goes there to try to get his sperm back and they won't give it to him, so he plans an elaborate sperm bank heist to try to get his stuff back."
As Chandrasekhar said, "It's like 'Ocean's Eleven' with sperm."
video player loading
.
.
.
The film made its big premiere at SXSW where IFC was lucky enough to catch up with the duo for an interview. Heffernan starred in the film and Chandrasekhar starred and directed it, so it should come as no surprise that the movie took some inspiration from their own lives. But what was it exactly that made them the right men to tell this story?
"We're fairly professional masturbators," Chandrasekhar deadpanned. "We come from a good family of that."
Masturbation jokes aside, the guys admitted that they do still get nervous before big premieres, like this one at SXSW. However, they were aware that "The Babymakers" would be playing to its target audience.
"This town has extremely smart stoners, frankly," Chandrasekhar said of Austin. "It's a certain type that gets all these little tiny jokes we've stuck in there."
Are you looking forward to seeing "The Babymakers" when it hits theaters? Tell us in the comments section below or on Facebook and Twitter.