Hilarious "Superbad" sex scene table read video makes its way online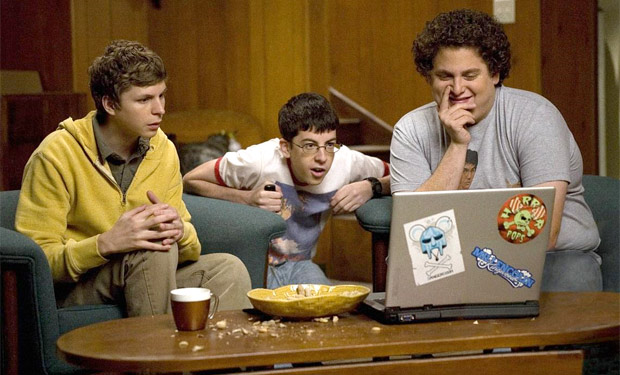 Posted by Terri Schwartz on
Seemingly out of nowhere, a video of a table read for "Superbad" has made its way to YouTube, and the six-minute-long clip offers fans a chance to see the sex scene sequence that could have been if stars Michael Cera, Jonah Hill, Emma Stone and Martha MacIsaac had stuck to the script.
Fortunately they didn't, or we never would have had my personal favorite line from the 2007 movie, "I'm going to give you the best blow j ever." Maybe it's just that I've seen this film way too many times, but I'm sort of happy that the changes made to the "Superbad" script took place. The table read shows that the scenes between Evan and Becca were supposed to have been very different, and honestly were more depressing than awkward.
It's a sign of a good movie when watching a table read for a scene as hilarious as this is just as funny five years after it came out as it was when I saw it in theaters. Plus, it's nice to be able to see the other actors' responses to hearing their cast members' scenes. Unsurprisingly, it's Christopher Mintz-Plasse's McLovin (or Fogell to those of you who want to get specific) who sends everyone at the table into fits of giggles. Glad to see I'm not alone in that reaction.
Here's Cera and MacIsaac's sex scene in the movie:
And here's the classic McLovin sex scene:
Did you find this table read to be more or less funny than the actual scene in the movie? Tell us in the comments section below or on Facebook and Twitter.