Catching up with 2012 Subway Fresh Artists finalist Sarah Streicher from "The Ultimates"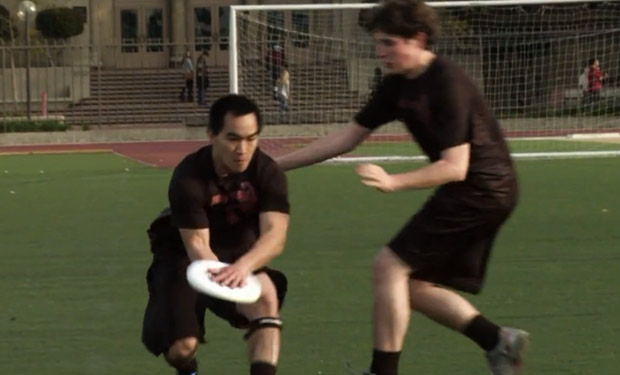 Posted by Todd Gilchrist on
Corporate sponsorship can be a tricky thing to take on for a struggling artist; there's always a quandary whether the opportunities some one will have because of it are worth the credibility that it might cost him or her. But Sarah Streicher came up with a terrifically inventive way to, pun intended, incorporate that idea into a web series that was itself sponsored by a major company.
For her SUBWAY Fresh Artists™ Filmmaker Series entry, "The Ultimates," Streicher created the story of a struggling ultimate frisbee team who lures a star player from one of their opponents with the promise of backing by none other than Subway Restaurants – which turns out to be a lie. But while it remains to be seen whether her comedy series prevails in the company's annual competition, Streicher was kind enough to speak with IFC about the process of assembling the show, and then discuss how working on it has helped her achieve her own goals within the industry.
video player loading
.
.
.
Watch the rest of "The Ultimates" and learn more about the SUBWAY Fresh Artists™ Filmmaker Series by clicking here.
---
IFC: Just to get started, talks about how you heard about the competition and how you came up with the idea of "The Ultimates" for it?
STREICHER: Sure. Well, they had the informational meeting night at USC and I had also heard about the filmmakers who worked on their projects last year, so there was a lot of word of mouth at school. I was kind of so inundated with my own work, because being in the program, we're just kind of always under it, but my roommate was the director on "The Ultimates" and she brought the project to me and she was like, "What are you up to? What are you doing? Do you want to kind of try to go out for this?" And so we did, and she was actually the one who brought the actual concept of [ultimate Frisbee] to me, because I guess they had stressed that they wanted to promote breakfast for Subway. Alexis has this idea to do something that was sort of fit and stressed activity and teamwork and that often took place in the morning, so she thought of some sort of a sport, but something sort of left of center, so she thought about ultimate because that's sort of a weird sort of fringy sport that has practice in the morning. So that's what we went with, and then we just kind of generated ideas for the actual stories together.
IFC: To you is there anything meaningful about the competition being between an East Coast school and a West Coast school, or if it had only been between USC and UCLA, the competition would have been the same?
STREICHER: There are I think significant differences in how the two teams sort of approached it, because first of all, I think they're more autonomous — like they don't report to faculty. They only report to the ad agency and to Subway, so they didn't really have a middleman whereas we did. We did have to report to faculty, and so we kind of got the pros and cons of that. I had to take notes from the faculty, but also the faculty were on our side. We could go to them with any problems or concerns, whereas I'm under the understanding that NYU was sort of on their own. They were out there doing it sort of rogue a little bit, and so I think that those both have pros and cons, but also I think it was great that it gave different textures to the project. The New York ones are very New York — I mean, they took advantage of that sort of the East Coast skyline. And I really like the way it brought a few different textures to the table.
IFC: When you had this idea were you thinking about it individually as an idea for this competition, or was this at all something that you could or would want to sort of propel forward as a longer series?
STREICHER: Like I said, Alexis sort of originally tailored it to what they were looking for in a promotional series, but when we got down to crafting stories, we definitely wanted to just focus on character and to create characters that would be vivid enough to live on beyond Subway and so that was we definitely had that in mind. And then I carried the characters sort of in my heart a little bit, as goofy as they were, and I definitely like to put them in play again, whether it be in this series or another series.
IFC: What is your creative process like in coming up with these episodes?
STREICHER: I worked with Alexis and we talked a lot about like different teams that we've been on and all those sort of weirdoes or strange birds that we tried to nuance with real personalities. And then in terms of the three episode arc, I thought yes, we do need a journey, but beyond that I was like we'll need the coming-together episode, and then we'll need sort of the punctuating tournament episode. It was basically sort of a sports-story structure, but in that middle episode I got to play around a little bit because that was more of what they call in television a non-premise episode. It was just these characters kind of playing around so I thought about what they could be doing.
IFC: What are your ambitions going forward in terms of how the ideas in this or the process of doing this feeds into where you would like your professional career to go?
STREICHER: It came actually at a really good time because I sort of had one foot in features and the other foot in television, but I'm really just trying to get going. My interests were in features and television, but I've always sensed that I'm more of a short-form person — I really enjoy living with characters for a long time and learning new ways to take their stories. So because we were sort of rewarded with this opportunity, I got the experience to do it. I mean, I'm very settled on trying to make it in television, to get into a writer's room on a sitcom. And having that vision clarified through this has been so wonderful and now I just feel like doubly motivated to go after it.
IFC: Because you're given a budget that's more than you're probably accustomed to working with, how did that affect the process?
STREICHER: Actually, I was a little overwhelmed by the money. I didn't work with the budget, because as the writer I didn't see the numbers, but in the writing process I did feel that freedom like, oh my God — I can write in this. At one point I had written in a Segway because there is a cheating sequence in the second episode and I wanted them to ride on a Segway, and I went to the producers and I was like I really want this Segway — and it turned out the only reason we couldn't get it was because the fields had restrictions at USC. They didn't want us to run over the nice intramural field with a Segway, but otherwise we totally could have done it. And I've never really had that freedom because the only other things that I've had produced, I've basically done myself and when I do things myself I have to be ultra-conscious of budget; anything that I buy I usually have to carefully repackage and take back to Target and lie to them and tell them that I actually bought the wrong thing or something, so they'll give me a refund. So it was exceptionally freeing, I think. Oh, and the dog; I totally wouldn't have been able to write in the dog if we hadn't had the extra funds, because the dog was the most expensive thing on the project.
IFC: What have you done since then, and have you been showing this to people as an example of the kind of work that you want to do now?
STREICHER: Yeah — actually on the heels of this I got a manager, so I'm really excited about that. I'm also I'm interning right now at "90210," which is a teen soap, and I've been showing it to the people there and they're really excited for me. It's part of sort of the networking strategy that I have going, and being someone who wants to work in episodic television sitcoms in particular, it's nice to have sort of done a mini version of that. I feel very fortunate.
IFC: What through this process do you feel like you really learned? Were there any unexpected surprises from the production that you feel like you will take with you?
STREICHER: I learned a lot about collaboration. That's kind of like a stock response, but I mean I didn't just learn teamwork and diplomacy. I also learned when to speak up, and to trust my own voice, because there were certain moments when I knew that something wasn't going right, but there was sort of a diffusion of responsibility and no one was really stepping up to the plate. And because I was sort of listening to what I truly felt, I was able to raise my hand, and even though I sometimes have trouble expressing myself about creativity, I was able to say I really need to be assertive right now and request that we do this or that or make this decision. And usually when I did that, I was rewarded with a better result, and so I just I learned to trust myself. And also I learned to look more closely at opportunities for female narratives, because after watching these series — even mine — they're all male-driven. And after watching them all, I just think next time around I hope that someone maybe tells a female story. We're in the era of "Bridesmaids," so why not? Not that I have any regrets about what I chose, but there are a lot of wonderful female stories to be told.