Tim Grierson on Sam Worthington's weird "Wrath of the Titans" promotional strategy: Trashing "Clash of the Titans"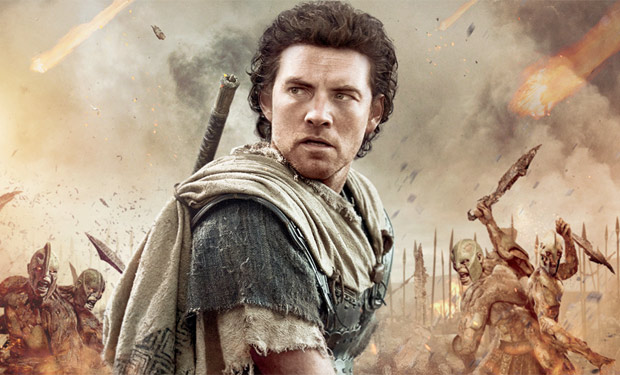 Posted by Tim Grierson on
When I'm not reviewing films or writing about movies, I'm covering music, which sometimes means interviewing bands when they're in the studio working on their forthcoming album. It's a given that if you ask a musician how his new record is, he'll tell you it's the best thing he's even done. (What's he supposed to say? "Eh, don't bother buying it; my first album was way better" probably wouldn't go over so well.) But in my experience, it's pretty rare to hear an artist extol the virtues of his new album by badmouthing his previous record — unless that one was a commercial flop. In that case, however, the musician will do anything to distance himself from his past failure by swearing that he's back to making songs you'll want to hear.
Weirdly, this doesn't happen with movies — at least not recently. And I don't understand why.
I was thinking about this because of "Wrath of the Titans," which opens on Friday. It's the sequel to the 2010 remake of "Clash of the Titans," a movie that wasn't very good but made a lot of money — almost $500 million worldwide. And yet its star, Sam Worthington, has been talking smack about "Clash" for months now, promising that "Wrath" will be much, much better. Is that a good idea?
As far back as December 2010, Worthington has been letting people know that he agrees with all of the negative reviews for "Clash" and that he wouldn't let "Wrath" be as bad:
"I think the first one, we kind of let down some people. And yeah, I totally agree. The only point of doing a sequel is either the audience demands it or you believe you can better the first one. What we're setting out to do with this one — the writers and the director and myself — is improve. I think I can act f***ing better, to be honest … Just take all the notes from people that I have been reading about on the 'net and give them a movie they f***ing want."
And in case you thought he had changed his tune since, you'd be mistaken. In January of this year, he was still belittling his "bland performance," adding "I don't think that if I was paying 16 bucks, I would have booed me. I would have gone, 'you're boring, Worthington, move on.'"
While it's nice to hear a star express his true feelings about one of his films, this tendency strikes me as rather goofy. Nonetheless, Worthington's mea culpa has been part of a recent wave of public apologies where filmmakers, stars and studio heads denigrate their own product. Last year, it seemed like you couldn't watch one interview for "Transformers: Dark of the Moon" without Shia LaBeouf or director Michael Bay telling you that "Transformers: Revenge of the Fallen" was terrible but that this new sequel was going to be an improvement. Or there was Universal president and CEO Ron Meyer, who admitted that his studio puts out "a lot of s***ty movies." At least in the case of Meyer, as I noted at the time, part of his disappointment seemed tied to those films' weak commercial performance. But "Revenge of the Fallen" brought in almost $840 million worldwide. If Bay was trying to make art films like "The Tree of Life," then hearing about the creative shortfalls of one of his movies might be interesting. But he's supposed to put butts in seats, and he did just that. Why trash his own previous blockbuster to pump up his new one?
Same thing goes for Worthington. While I don't doubt the sincerity of his negative reactions to "Clash" — which he tends to blame on his own performance — I can't help but feel a little cynical when an action star promoting a big tentpole movie talks about the need to really explore a character in the sequel so that there's more resonance. I don't mean to be condescending to Worthington, but he knows he's making "Wrath of the Titans," right? Sure, it has Liam Neeson, Ralph Fiennes, Rosamund Pike and other fine actors … but, c'mon, they're making a popcorn flick. It's incredibly rare for such films to be truly stunning works of art — Christopher Nolan's superb Batman movies are the exception, not the rule — and so I'm not sure if knowing that Worthington considers "Wrath" to be a superior, more dramatic film than "Clash" makes all that much difference in the end. These movies are designed to make money, pure and simple. Anything that gets in the way of that is a problem, not whether the character of Perseus has been more fully developed.
I should probably mention that I haven't seen "Wrath of the Titans" yet, so I don't know if it's a masterpiece or a big hunk of junk. And I'll admit that Worthington's comments give me hope that it will indeed be better than the first film. But I've been burned before. For all of Bay's and LaBeouf's insistence that "Dark of the Moon" would be better than "Revenge of the Fallen," both flicks seemed about the same, unfortunately. And I'm sure it must be annoying for someone like Worthington, who has done more substantial acting in indie dramas like "The Debt" and "Texas Killing Fields," to feel that he's not taken seriously just because he's mostly known for big action flicks like "Clash," "Avatar" and "Terminator Salvation." But I'm not sure if acting as if "Wrath of the Titans" will be the next "Hamlet" is necessarily the best way of going about correcting that impression.