Catching up with 2011 Subway Fresh Artists winner R.J. Daniel Hanna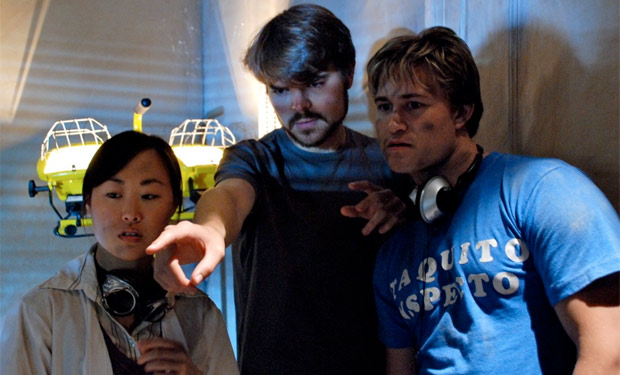 Posted by Todd Gilchrist on
With a title like "Jeff and Ravi Fail History," it's easy to assume that cowriter and director R.J. Daniel Hanna made a web-friendly version of "Harold & Kumar," some serialized tome in which two slackers muscle through borderline failure powered by hipster wit and a succession of fast food entrees. But Subway Restaurants made a shrewd decision in choosing Hanna as one of last year's Fresh Artists™, since the young filmmaker created a clever series of webisodes in which an overachiever and her doofus roommate find themselves lost in time – this time appropriately powered by fast food entrees.
IFC caught up with Hanna for a discussion about his experiences as an entrant in the SUBWAY Fresh Artists™ Filmmaker Series; in addition to discussing the challenges of coming up with an idea that was fun, clever, and appealing to judges, Hanna talked about the opportunities the contest afforded him, and explained how the experience influenced him as he moves on to his first feature, a low-budget comedy.
Find out about this year's SUBWAY Fresh Artists™ Filmmaker Series by clicking here.
---
IFC: Just to get started, talk about how you got involved, how you became aware of it and how you sort of initially came up with an idea for the contest.
HANNA: There was going to be a competition to do a web series for Subway Restaurants. Coke used to do those student short films that they'd play at AMC theaters, so I'd done one of those the year before and I knew it's a good opportunity to get money from a company and associate yourself with a brand and do something that you don't have to fund yourself, that you can do on a bigger level. And it seemed really cool – three episodes of a web series, and maybe they would continue the web series down the line or something like that. So it just seemed like a really good opportunity; $40,000 for three episodes was more money than I'd ever worked with before.
So we just kind of got together with Brian Scofield and Ian Ward, and Brian and I kind of kicked around some ideas and what we wanted was something where we could use the money, which was $40,000, so we wanted to do something that could have some production value or do something we hadn't done before. So we kind of kicked around some ideas and then kind of thought, well, there's been a lot of time travel stuff, but not really on the web that we were aware of. Initially, we wanted to do it a little bit more handheld style, like a little more fluid in that sense, and do some more [improvisation] and that kind of thing. We thought that hadn't really been done with time travel, and we knew that if we did get to do different episodes, we can go to a different place in each episode and this kind of opened up a lot of opportunities, we thought, to cover some of our favorite genres and stuff like that.
IFC: Once you came up with the idea, how much of it was developed by the time you entered it in the contest?
HANNA: But, initially, we had two episodes take place in the past – how we pitched it was they would arrive in the past and then you'd have basically one episode of them kind of arguing in the past and they meet a caveman at the end of the second episode. Then, after we pitched it and were selected based on that outline, we started thinking, why don't we make a whole episode that is in the future and we'll just really push ourselves to try and stretch every dollar and make that happen? So that was where that kind of came about.
It seems like kind of funny now, but at the time $40,000 was like so much money, especially in kind of school terms, where you can get a camera from school and get a bunch of resources from school, so it's really $40,000 you can put up on the screen. So we just really wanted to try and make each one different, have like a different look and be in a different environment and explore a different genre, like sci-fi or the post-apocalyptic kind of movie.
IFC: Do you remember how you reacted when you found out you were chosen as a winner?
HANNA: Oh, yeah, I mean, I was extremely excited. When we were making it, like we knew it was kind of exactly what we wanted, because we got to make it during the summer, so we didn't have class or anything like that. We were just focusing on making the movie. And I knew when we found that it was going to be an opportunity to really do something on a much more kind of real level and be able to hire people. Like we had a production designer from AFI who was great and being able to hire good people and really make something where we didn't have to like cut every corner, and that was really exciting to think, okay, well, we're actually going to make something that there's no way we could have made this without their support. That was really exciting.
IFC: How reflective are the shorts that you came up with of the kind of content you want to create going forward? Do you want to go continue to do comedy, or was this sort of a fun platform to get to move on to sci-fi, action, drama, et cetera?
HANNA: I'm interested in comedy. But it's funny – I have a definitive separation between what is more like commercial work, something for a brand, and then something that I really want to do. Like I'm probably more interested in like a Coen brothers kind of [comedy], more like Fargo or like Barton Fink, which has comedic elements but is primarily a dramatic storyline, and that's kind of more where I would want to do personally, professionally.
But I'd actually really like to get into commercials and would really be interested in doing more web series and things like that that are comedies. So [the web series] is not, ultimately, what I'd want to do, but it's something I would really like to do more of, because it is a lot of fun. It's probably the most fun I've ever had on set, just because the actors really brought a lot and we just tried to keep it fun and keep it open to improvisation and that kind of thing. And it's just kind of neat to be able to feel like we could try anything. In comedy, you can be a little bit absurd and kind of push things in that direction, which is a fun thing to explore.
IFC: Obviously, you'd had training beforehand via school and everything else, but were there different things that you learned from the competition or just the process of making the shorts themselves?
HANNA: Yeah, definitely. The experience of having to just sort of make the scene work and figure out a lot of the blocking stuff right there in the moment and kind of working with the actors while everyone else is setting up and coming in and just trying to work on the spot instead of being able to plan every little thing out. Because we didn't have the sets built until like right before we were shooting and we couldn't really get all the locations much before we were shooting. It all happened very quickly, so in films where you're kind often used to being able to focus and find out every little detail before it happens, it wasn't really like that. We had to figure a lot of it out on the spot and adapt a lot more on the spot. And it really taught me how to delegate, I think, because then you'd let the crew do their thing and trust that they were going to get it right. Then you're trying to do what's really important, I think, which is getting the actors ready and making sure that it's not just people standing there the whole time not doing anything.
IFC: How do you feel like this contest sort of laid the groundwork for what you're doing going forward, be it in terms of opportunities or creatively shaping the direction that you might go in?
HANNA: Well, obviously, it was a good opportunity to do a fun project with a good budget and stuff, so it's a really good reel piece. I think it definitely helped to have worked for Subway Restaurants or Coke or brands like that, because it's something people recognize and kind of legitimizes me a little bit. It's like here's something I did for a major brand and they trusted me with it and paid me money and this is the result – people were all happy with it.
IFC: What sort of opportunities has winning created since then, and what are you doing now?
HANNA: Well, actually, I am going to edit like this indie feature, like a $1.2 million feature. A friend of mine recommended me, it's a comedy, and then they really liked the web series and that's why I got hired, ultimately, so that seems like a pretty direct correlation. But in terms of really direct things, that's probably the most direct like job.
IFC: What has this experience sort of meant for you personally, much less professionally?
HANNA: I mean, it's always really validating to pitch an idea that you think is good for somebody and having it be accepted and fun to just have people support it and like it enough to try and associate with South by Southwest and play it at IFC and stuff, because those are really critically respected brands. South by Southwest and IFC is really something that's really important to filmmakers starting out, to not just be associated with big corporations but also organizations that support art, even if it's not like the most artistically groundbreaking thing.
So that was really important and a really good feeling that helps think, okay, well, I'm not crazy, people maybe do have good ideas and we can kind of push the boundaries in terms of what we could do with the money and the time and stuff and actually get this thing done. Because there were definitely a lot of, not doubts, but they were kind of like, great, I hope you guys can do this. It's really ambitious, so I hope you pull it off. That was kind of the – I don't want to say attitude, because that's how I'm thinking of it, because they were very positive the whole time, but kind of the feeling. And we were very proud that we felt like we kind of obtained the level that we wanted.