SXSW 2012: Reggie Watts explains his role on "Comedy Bang! Bang!"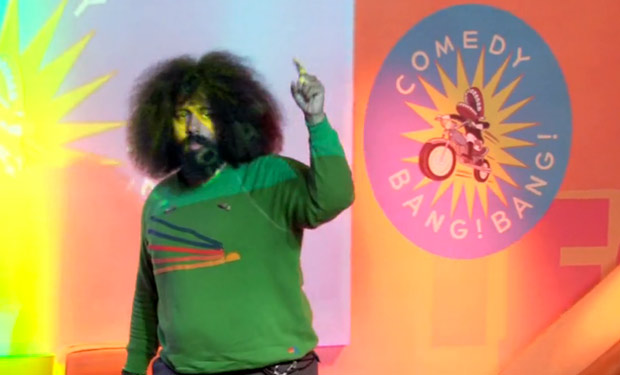 Posted by Terri Schwartz on
There are many reasons to be excited for the new show "Comedy Bang! Bang!," but one of the big ones has got to be the inclusion of Reggie Watts as the series' bandleader. When IFC caught up with the comedian/musician at SXSW, he teased the role he has to play on the comedy group's upcoming television show (airing on IFC in June).
video player loading
.
.
.
"Basically I'm playing people on and off, and I'm doing some musical bits," he explained. "What happens is they'll say, 'Hey, can you build an in to this guest and an out to this guest,' and I'll be like, 'Okay cool,' and while people are setting up shots and stuff like that, or they're rehearsing, I'll like do a quick song."
He elaborated, "Like, I'll build it really quickly on these looping pedals. And then when they call the guest I'll just play it and perform it. But it's cool because I think a show like 'Bang Bang,' you know, it really is run by nerds. It's all like hyper nerdy but very, very intelligent."
It turns out that Watts is much happier being part of a group production than he would be with a show all about himself. He did recently have a Comedy Central special, but Watts explained that he works much better in an ensemble.
"For me, it's a great honor to be a part of that because I hope to do some cool stuff in the future and this is nice that I get to come in this way," he said. "I think it's nice to be a part of a project as opposed to, you know, 'The Reggie Watts Show.' I'm actually much happier to be a part of something."
Are you excited for "Comedy Bang! Bang!" to start airing? Tell us in the comments section below or on Facebook and Twitter.