Exclusive premiere: Band of Skulls "Hometown"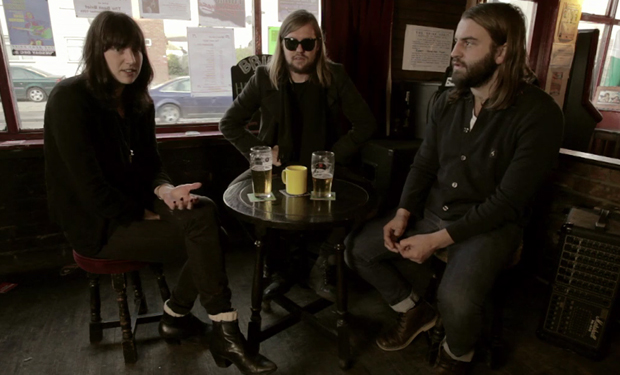 Posted by Brandon Kim on
Southampton export, Band of Skulls, weren't fully appreciated in their native kingdom until they had first roused audiences across the rest of the world. Touring, with a memorable soundtrack for a Mustang commercial — "I wanna see you in the morning!" — combined with other bits of luck like the inclusion on a "Twilight" soundtrack gave them a ton of unexpected attention.
They say the were insulated from all the teen throbbing, but knew something was up when, "for a period of a couple of months we saw younger people turning up to shows in Edward Cullen T-shirts, but they sort of disappeared again," noted bassist/vocalist Emma Richardson.
Watch the band in this short documentary talk about going from working the bars to the relief they feel now, playing music in a hometown that appreciates them.
video player loading
.
.
.
Band of Skulls released their second album, "Sweet Sour" on Vagrant Records in February. They are on tour now:
3/27 – Brooklyn, NY @ Music Hall of Williamsburg
3/28 – Providence, RI @ The Met
3/30 – Toronto, ON @ Phoenix Concert Theatre
3/31 – Montreal QC @ Corona Theatre
4/2 – Detroit, MI @ St. Andrew's Hall
4/3 – Chicago, IL @ House of Blues
4/4 – Minneapolis, MN @ Fine Line
4/6 – Denver, CO @ Bluebird Theatre
4/7 – Salt Lake City, UT @ The Complex (Grand Room)
4/9 – Seattle, WA @ Neptune
4/10 – Vancouver, BC @ Commodore Ballroom
4/11 – Portland, OR @ Dante's
4/12 – San Francisco, CA @ The Fillmore
4/15 – Indio, CA @ Coachella Festival
4/22 – Indio, CA @ Coachella Festival
Are you loved in your hometown? Let us know in the comments below or on Twitter or Facebook!