Nick Offerman on getting naked in "Somebody Up There Likes Me"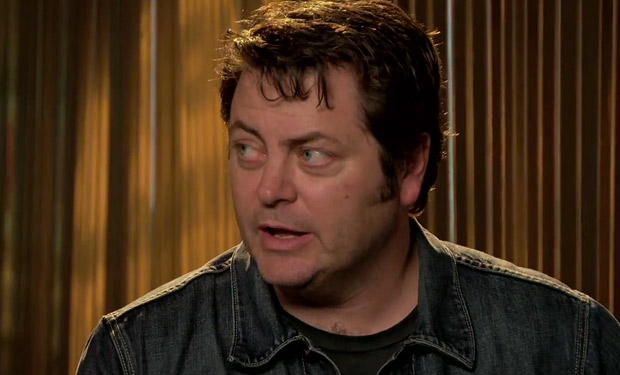 Posted by Terri Schwartz on
Nick Offerman might be best known for his mustache, but that might change when "Somebody Up There Likes Me." Turns out that things get a little racy for Offerman's character during one specific portion of the movie. IFC had the chance to catch up with Offerman at SXSW after the movie premiered to find out more about the unexpected moment.
If you couldn't tell already, yes, we are talking about a nude scene in the film. And, though it originally was supposed to involve two women, Offerman does doff his clothes for the sake of the cause.
"Much of that [scene] involves a couple of incredibly beautiful, talented young ladies named Jess Weixler and Stephanie Hunt," he said about that moment in the movie, and then adding, "I take my pants off."
video player loading
.
.
.
Director/writer Bob Byington added a bit of backstory to the inclusion of a naked Offerman. It turns out that the "Parks and Recreation" star only dropped his pants for solidarity, not because he wanted to showcase his naked body (though that could be part of it too).
"We were going to do a scene with an actress, and I was kind of nervous about getting her clothes off," Byington said. "Nick felt it was his responsibility as a producer to take his clothes off to support her."
Turns out Offerman thought the scene would stay on the cutting room floor, but Byington thought it was too juicy to leave unused. "We couldn't resist using the footage," he said.
Are you looking forward to seeing a naked Nick Offerman? Tell us in the comments section below or on Facebook and Twitter.