Adapt This: "Morning Glories" by Nick Spencer & Joe Eisma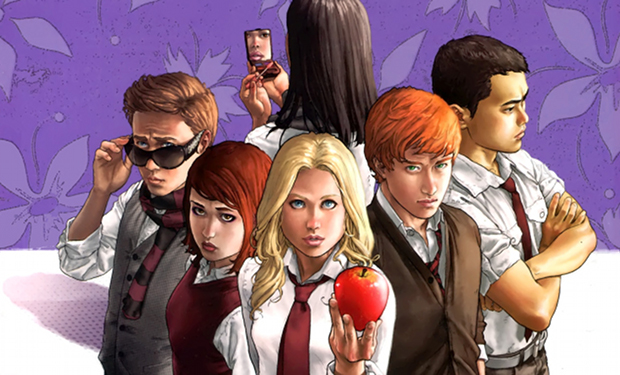 Posted by Rick Marshall on
With Hollywood turning more of its attention to the world of graphic novels for inspiration, I'll cast the spotlight on a new comic book each week that has the potential to pack a theater or keep you glued to your television screens. At the end of some "Adapt This" columns, you'll also find thoughts from various comic creators about the books they'd like to see make the jump from page to screen.
---
This Week's Book: Morning Glories by Nick Spencer & Joe Eisma
The Premise: When six students are accepted to Morning Glory Academy, they discover that all is not as it seems at one of the nation's most prestigious prep schools. In fact, it's downright deadly — and that's just the first class of the day. Faced with a choice between toeing the line or brutal punishment, the new kids at school are determined to uncover the academy's dark secrets and escape… or die trying.
The Pitch: Morning Glories writer Nick Spencer famously pitched this critically praised comic as a mash-up of the television series "Lost" and the comic book series Runaways, about a group of kids who discover that their parents were supervillains. While it certainly has that "Lost" vibe, I'd take it a step further and say that it also clearly draws from the best high-school dramas, blending all of the mystery and strange phenomena with a classic angsty-teen vibe a la "The Breakfast Club" or "My So-Called Life."
An adaptation of Morning Glories should definitely go the small-screen route rather than a standalone movie, as Spencer has crafted a wonderfully paced story that has all the right beats for a TV series and is filled with brilliant, episode-ending cliffhangers. It's actually a bit surprising that we've heard so little about potential adaptations of the series, as it seems perfectly structured for television.
While the Morning Glories comic book series is still in its infancy (issue #17 hit shelves last month), there's no reason a "Morning Glories" TV series can't go into production before Spencer and artist Joe Eisma reach the conclusion of their story. If there's one thing that the success of "The Walking Dead" TV series has taught us, it's that the comic and the adaptation don't necessarily need to sync up precisely, as long as the storytelling is strong in both mediums. If the network gives the comic's creators a level of input similar to what Robert Kirkman has with "The Walking Dead," both projects can flourish.
One more element of Morning Glories that seems trivial, but could offer a big advantage on the screen, is the age of the cast in the comic. Much of the series unfolds around a cast of teenage characters, so a television series would offer lots of opportunities to cast young, up-and-coming actors alongside a few carefully chosen veteran actors — something that has been a boon to hit shows like "Friday Night Lights" and many of the series on The CW. Add to that mix the complicated, mind-boggling layers of mystery that make Morning Glories such a compelling read, and you've got a demographic-defying hit on your hands.
The Closing Argument: Television audiences are looking for the next "Lost," and an adaptation of Morning Glories could easily fill that niche while adding an extra dose of appeal for the younger demographic. Spencer has crafted a fascinating mystery with Morning Glories that — like "Lost" — doesn't rely on an abundance of special effects, making an adaptation that much more conceivable.
As I mentioned earlier, it's surprising that a "Morning Glories" TV series isn't already underway, given the comic's popularity and it's TV-friendly structure. If a television network is smart, it will move to make an adaptation of "Morning Glories" happen sooner rather than later, while the world is still looking for exactly this type of show.
---
Would "Morning Glories" make a good TV series? Chime in below or on Facebook or Twitter.