"John Carter" star Lynn Collins on becoming the Princess of Mars, getting sexual and more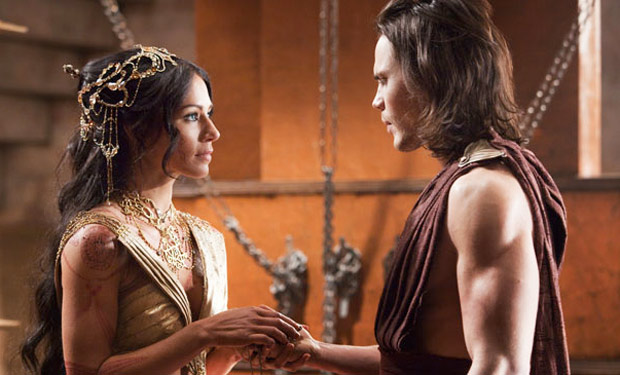 Posted by IFC on
By Jennifer Vineyard
Lynn Collins, who plays the female lead in "John Carter," thinks she might have gotten an overdose of testosterone working on the film. "I feel like maybe my mustache has gotten thicker," she laughed while on the phone with IFC. "Maybe I have a few chin hairs to pluck."
Since the cast also includes Taylor Kitsch, Willem Dafoe, Thomas Haden Church, Mark Strong, Ciaran Hinds, and Dominic West, Collins said she was lucky she was a tomboy in order to match her male co-stars when it came to action-packed scenes. Since she grew up abroad — living in Singapore — from the age of four, Collins was able to travel to Japan every summer to study Shito-ryu karate in Okinawa. "I picked karate over pageants," she said.
Collins' fighting background helped make her character Dejah Thoris "powerful," she said. "We didn't want to do her like in the books," she said, referring to the Edgar Rice Burroughs novels in which a 19th Century earthling travels to Mars and has a series of adventures on the red planet. These books, otherwise known as the Barsoom series, could yield a franchise series of films — as the first of the ten stories, "A Princess of Mars," first published 100 years ago as a serial, forms the basis of John Carter. Dejah Thoris is the princess in question — and the inspiration for characters such as Princess Leia in Star Wars.
"We didn't want her to be a damsel in distress, so we had a tricky thing figuring out how strong to make her," Collins said. "I think the natural progression is over time to make her more maternal, more vulnerable, more sexual. I mean, at some points, she's almost nude! So the guys will get what they want there. But she's very different when we first start out. We needed to give her somewhere to go if we do more of the stories."
Collins said that the filmmakers even had to dial back some of her character's feistiness so it wouldn't seem too over the top — "We had to take some punches out," she said. "We had these punches in the middle of dialogue, where I would punch [Taylor], and now I don't punch him quite so much."
Dejah Thoris isn't just a woman warrior, but also a scientist and a philosopher. "Sometimes before a scene, I would try to open myself up to the universe," Collins said. "I would ask whatever higher force there is to let me be a channel for this role." The actress said she also tried to get rid of all her own bad habits, such as smoking — "I wanted my shit cleared out" — so she could feel pure like Dejah. "This character is different for me," she said. "It's a huge responsibility, because she's an archetype. She's a powerful feminine force. The force of feminine good."
Do you plan on checking out "John Carter"? Let us know in the comments below.