Liam Neeson in "The Dark Knight Rises" officially confirmed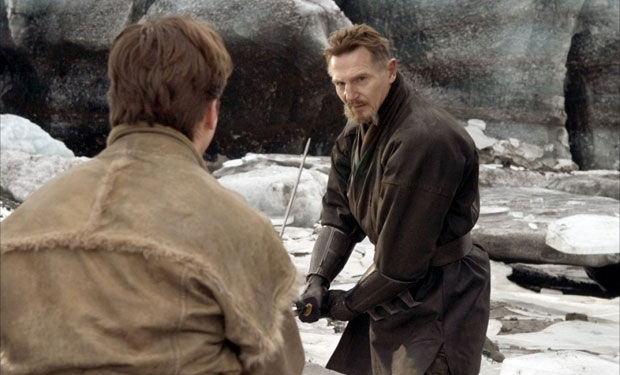 Posted by Terri Schwartz on
It's been pretty much confirmed in the past, but if you were in desperate need of some definitive proof, you now have it. Warner Bros has announced that Liam Neeson will be reprising his role as Ra's al Ghul in "The Dark Knight Rises."
Of course, they didn't just come right out and say it, but instead slipped the little nugget of information away in a press release. Neeson stars in the upcoming "Wrath of the Titans," and ComingSoon.net got their hands on the production notes for the flick. In them, Warner Bros reveals that Neeson will definitely be in the third and final Batman film.
"Neeson next appears in Peter Berg's actioner 'Battleship,' and he also will be seen in Christopher Nolan's much-anticipated action thriller 'The Dark Knight Rises,'" the production notes read.
Well, there you have it. Neeson first appeared in "Batman Begins" as the villainous R'as al Ghul. It has long been speculated that Martion Cotillard will play his daughter, Talia al Ghul, in "The Dark Knight Rises." The trailer for the film features a voiceover by Neeson, so it's fitting that he return to the franchise in some capacity for its final installment.
Back in January, Neeson had admitted that he had been on set, but wouldn't give away any details regarding his scene.
"I was on set for maybe an hour-and-a-half and the director didn't tell me anything of what it's about," said Neeson. "So, I'm being very honest when I say I have no idea what's going to happen."
"The Dark Knight Rises" is due to hit theaters on July 20. It stars Christian Bale, Tom Hardy, Anne Hathaway, Marion Cotillard, Joseph Gordon-Levitt, Gary Oldman and Morgan Freeman.
Are you glad Neeson is in "The Dark Knight Rises"? Tell us in the comments section below or on Facebook and Twitter.