Judy Greer talks "Jeff, Who Lives At Home" and the return of Kitty Sanchez in "Arrested Development"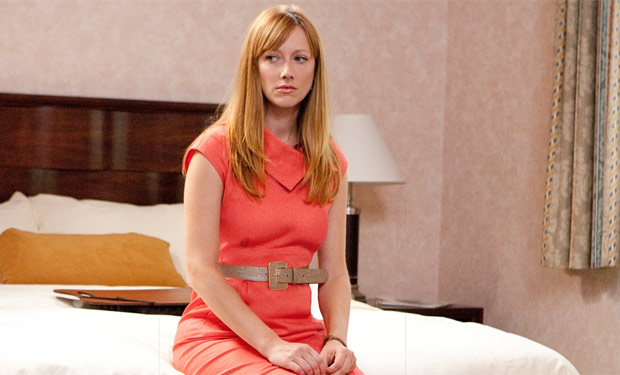 Posted by Terri Schwartz on
For as far back as we can remember, Judy Greer has been busy stealing scenes in every project she's been in. Whether she's been wearing her hair down and glasses off in "Arrested Development" or playing a heartbroken wife who confronts the comatose woman who her husband was cheating on her with in "The Descendants," Greer always puts a memorable spin on her characters.
The same can be said for her role in the new Duplass brothers film, "Jeff, Who Lives At Home." IFC recently caught up with the actress to talk about her shift from comedic to dramatic roles and also find out the latest scoop on the "Arrested Development" movie. Read on to find out what she had to say, but beware because some spoilers for "Jeff" do lie ahead.
IFC: You have been in some unhappy relationships in movies recently. Why are you doing this to yourself?
JUDY GREER: Yeah, I think it's kind of cathartic. I stopped going to therapy. I don't have to do that anymore because now I can just go to work. [laughs] It's been fun to do something different. For me, you know, I guess I was sort of thinking of the coincidence just this weekend and doing press for the movie because I wasn't really considering that, but I did spend some time in my career playing the sidekick role, so at one point I said to my agent and managers, you know, I'd love to maybe, instead of being the friend, be like the wife for a while, so they were like, "Awesome." So now I'm like the wife now, so that's good. But at least my wife characters, they have some stuff going on. I'm not just like, "So when are you coming home?" I'm like having [moments].
IFC: You're mostly known for your comedic roles, so has it been a conscious effort on your part to make the switch to drama?
JG: Yeah, but I don't feel like that's the only thing I want to do now. It just was more of I kind of wanted to be challenged, and I feel like I wanted to explore that. I mean, I was going to audition for these roles; if I didn't get them, then I wouldn't have done them, you know what I mean?
I mean, "Jeff, Who Lives At Home" I got offered, thankfully, by the Duplass brothers. They were kind of thinking of me for the role from the beginning, but some of the other parts I've done that are more dramatic lately, that I've auditioned for, I feel like if I audition and I get it, you know, that's good, right? Then that's maybe what I should be doing right now.
IFC: Would you ever want to go front and center?
JG: Well, yeah. I don't know anyone who would be like, "I don't want to star in a movie." Sure, yeah, in fantasy land I'd love to be in a romantic comedy where I get to be the girl who, you know, is not getting the guy until the very end when of course she gets the guy and lives happily ever after. I'm also not at all unhappy with the way my career has gone thus far and I feel like I'm really fortunate in that I get to work with awesome people. I get to do great roles and have these great moments in great movies, but I can also, you know, go to Target whenever I want. It's nice. I feel like I have the best of both worlds.
IFC: What was it about "Jeff, Who Lives At Home" that drew you to it?
JG: I loved the script and then I met [the Duplass brothers] for dinner when we were talking about me doing it and I loved them. Like, they're just cool guys. They're just the kind of guys that you want to be in business with forever. I think of them like, if I could make instead of like a theater company a movie-making company, I would love for them to be the in-house writer/directors, and I could be the in-house girl, one of them, and I don't know. They're just really good people.
IFC: Was there something about the script itself or something about the character in particular that you were attached to?
JG: Well, I love the idea of fate and sort of destiny, finding signs from the universe and sort of slowing down. I love when [Jason Segel] says to close your eyes and take a deep breath and what do you see? I love that message. I love the message of how every day should be your best day, and I love the relationship between my character and Ed [Helms]'s character even though it's very sad and it seems like it's kind of fallen apart.
I feel like I have seen that happen a lot with people I know and so I thought it was an important story to tell. Like, look how bad it can get. The beginning of the breakdown of communication is the end of your relationship. Once you stop putting in the effort and the time and take each other for granted, you have to really work hard to get it back after that. And so I was interested in that.
IFC: Was it nice to be offered a role outside of your norm?
JG: Yeah, definitely. For me it was, and it was fun to work with [Segel and Helms] because I felt like in a way we were all doing roles that we hadn't gotten a chance to really do before, so it was cool that we were all doing it together. Like all of us were like, "Here we go, doing something completely different!"
IFC: It seems like you have a pretty even split between your film roles and your TV roles. Do you prefer one over the other?
JG: Not really. I don't know, it used to be like years ago when you used to have to pick one, and obviously you don't anymore. There's things I like about both. I have never been — besides "Arrested Development," and it was like so tenuous if we were ever coming back or not, and I wasn't a series regular on that show — but I've never been in a real hit show. I've never seen what that's like. And so I feel like there's a lot of things about being on a successful television show that I'd love to experience, like a little bit of job security, like putting some money in the bank, that kind of stuff. Working with the same people every day, watching a character grow and evolve, and having some say in that.
But, you know, making movies is so awesome. It's like summer camp. There's always light at the end of the tunnel, so you feel like you can always throw yourself into a role because it's going to end in one to three months, depending. I love being in another city for a chunk of time, because you really get to learn cities and people and that's interesting and informative. But, you know, sometimes the hustle can get tiring and because of the economy and because the business is changing and because of the Internet, the roles are getting fewer and the people who want them, the group is getting bigger.
Whereas before I would audition for a part and get it and my competition would be other actresses like me, now my competition is like movie stars want parts. You know what I mean? They're just not making as many small movies, they're just not making as many movies period, and we just don't know what's happening and the direction the business is going to go in.
Especially with television, too. The Internet, you don't have to watch television shows on TV anymore, you can watch them on Hulu and it's like, who knows? It's an interesting time, but I think it's important to kind of be doing both.
IFC: It's interesting you say that because "Arrested Development" is coming back, but it's going to be on Netflix. Are we going to see Kitty Sanchez again?
JG: I mean, fingers crossed. I don't know.
IFC: You haven't heard anything yet?
JG: I heard probably, but I don't know, until I'm watching the movie and I'm in it onscreen, I never count on anything.
IFC: What would she be doing now?
JG: I'd like for her to take the whole family down. I feel like Kitty Sanchez should come back with all the secrets and take down the Bluths. But, I probably shouldn't put it out there, because then they'll be like, "Well, now we can't do that!"
Do you plan on checking out "Jeff, Who Lives At Home"? What do you think Kitty Sanchez has been up to? Tell us in the comments section below or on Facebook and Twitter.