"American Reunion" directors clarify their stance on a "Back to the Future" remake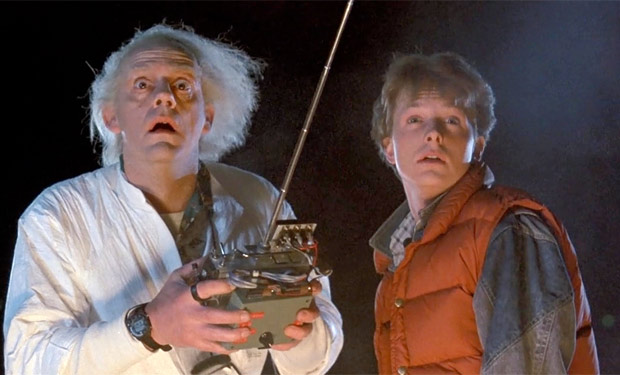 Posted by Terri Schwartz on
"American Reunion" directors Jon Hurwitz and Hayden Schlossberg might have been quoted as saying they would like to remake "Back to the Future," but unfortunately — or fortunately to many — that statement has been taken out of context. The writer/director duo have taken to Twitter to clarify their joke that was misrepresented in the press.
"The truth is, we were joking around and it was taken out of context. Nobody respects BTTF more than us," Hurwitz tweeted.
He went on to explain the way that they even got onto the "Back to the Future" topic with Moviehole, who they say misrepresented their statements. The interview came after Deadline broke the news that the pair have signed a first-look deal at Universal, and the directing duo talked about what projects they'd like to get their hands on.
"It all started with us talking about how as diehard Karate Kid fans, we were furious when KK was being remade. Then it got into a conversation about the business of remakes. And we talked about how KK proved that nerds like us make up such a small portion of the public and people embraced KK," Hurwitz explained.
He continued, "Then we talked about how for business reasons all classics will one day be remade. We speculate BTTF will one day be remade, because its so fucking awesome the world needs those stories. But if it were to be remade, we hope its WAAAAAY in the future. We were totally joking when saying we wanted it. Joking about remaking BTTF is like when Larry David jokes about Hodgkin's or Trey & Matt joke about AIDS. One of the few truly taboo topics."
Unfortunately, the quotes that were run didn't have the funny backstory and instead made Hurwitz and Scholssberg seem serious.
"We want 'Back to the Future,' just come out and say it. That's our favorite trilogy. We're always having this conversation," Hurwitz said in the Moviehole interview.
Scholssberg continued, "I wouldn't want to do it now because people would be like, 'Oh, there's no way it will be as good as the original.' But 30 years from now when Spielberg's like 90 and those guys are kind of on their way out, and those movies just look really old because we're watching movies that are old, literally in two dimensions or something, it would be great to have all these classics that you're able to remake."
Are you glad Hurwitz and Scholssberg were just joking about remaking "Back to the Future"? Tell us in the comments section below or on Facebook and Twitter.