Exclusive: Jon Hamm says his name has come up in "a lot of superhero discussions"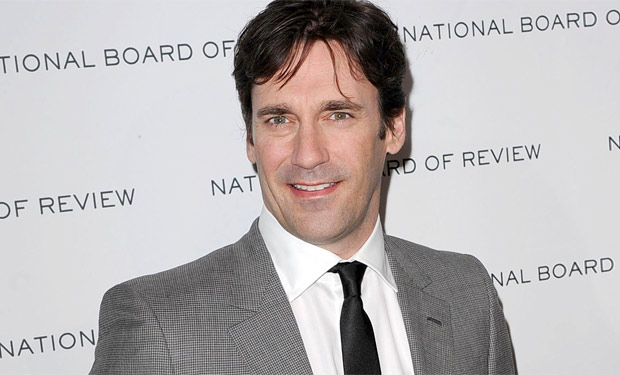 Posted by Terri Schwartz on
Between his memorable stint in "Bridesmaids," recent visit to "Saturday Night Live" and upcoming role in "Friends With Kids," it's sometimes hard to remember that Jon Hamm is best known for his role in AMC's hit "Mad Men" instead of his comedic talents. But there was once a chance that the man better known as Don Draper would have been known for an even different role: Superman.
Back when Zack Snyder was casting his "Superman" reboot "Man of Steel," one of the big rumors surrounding the project was that he wanted to cast an older Superman and that Hamm — who Snyder worked with on "Sucker Punch" — was in consideration for the title role. That was quickly shot down by none other than Hamm, and Snyder ended up going the alternate route and casting Henry Cavill as a younger Superman.
There definitely was an excited fan response when it was announced that Hamm was potentially in consideration for the superhero role, though. IFC got the chance to chat with Hamm while he was promoting "Friends With Kids," out Friday, and he said that Superman wasn't the only comic book role he's been in consideration for.
"I've been offered my share of superhero movies, but I think I've aged out of that," he said.
Hamm quickly regretted his choice of words, saying that he wasn't so much "offered" the roles as he was discussed for them. But according to the "Mad Men" star, he has had quite a few opportunities to don spandex and have super powers, only he felt that none of them were the right fit.
"My name has come up in a lot of superhero discussions," Hamm said. "It's a tough thing, you know? It's a tough game to get into. I have mad, crazy respect for the people that can pull it off because it's something that can be done poorly so easily. But, you know, it's a big commitment and it's probably something that, unless it's the right thing, it's probably not so much my jam."
We've already had one taste of what he would be like as a superhero thanks to the "Saturday Night Live" sketch "The Ambiguiously Gay Duo," and we've got to admit that we were fans. Beyond the comic book genre, we asked Hamm if there was a type of film that he'd like to explore. He seemed undecided in his answer, and said that he doesn't chose his projects based on a wish list of genres or actors.
"The only way I kind of choose material is is the material interesting to me and are the people involved with it people that inspire me in some way. And I think that in every case, with every project I've taken on, the answer to one or both of those questions has been yes," he explained. "I will continue to do that, and that's kind of just the way I pick stuff to do. I've been fortunate enough to never be like, 'Well, I've got to do this one because I've got to pay the rent.' And hopefully that will never be a deciding factor."
What superhero would you like to see Hamm cast as? Tell us in the comments section below or on Facebook and Twitter.