Jon Hamm talks comedy, Jennifer Westfeldt and "Friends With Kids"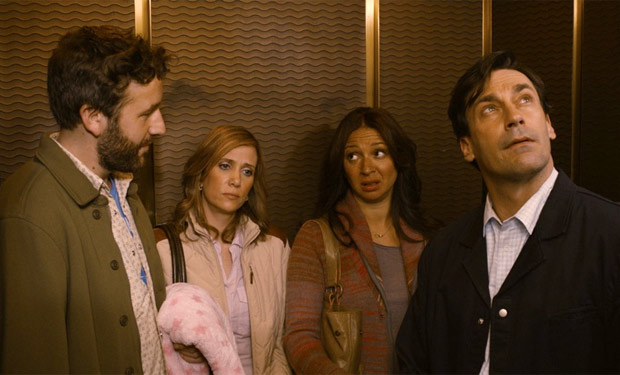 Posted by Terri Schwartz on
Screw "Mad Men," Jon Hamm has been killing it recently in the comedy department. There's a reason the man has earned two Emmy nominations for his guest spots on "30 Rock," been called back repeatedly to take part in "Saturday Night Live" and was specifically asked by Kristen Wiig to join the cast of "Bridesmaids": he's hilarious.
His new movie "Friends With Kids," which was written, directed and starred in by his longtime girlfriend Jennifer Westfeldt, often toes the line between comedy and drama, but Hamm still gets the chance to let his sense of humor shine through in it. IFC recently had the chance to talk with Hamm about his relationship with the comedy genre and why he felt "Friends With Kids" was a story that needed to be told.
IFC: Has comedy always been something that you were drawn to, or is it a new avenue that you're trying out?
JON HAMM: Oh, I've been a comedy fan for longer than I can remember, but I think the best comedy comes from a real place, or at least a place where you can kind of actively and quickly identify. You know, the kind of like sense of, "That happened to me! Ha ha!" That kind of shared experience. And I think that that's kind of the tone that we're trying to strike, is that real sense of being able to identify with a time in your life or a person in your life or a situation in your life where you just think, "Oh god, that happened," or, "Oh, that's so funny, that's so real."
IFC: So what was it in particular that drew you to "Friends With Kids"?
JH: Well, I happen to be sleeping with the director. [laughs] It was a script that Jen wrote kind of half of, and then put it away for a while. We would talk about it, and kind of talk about watching our friends go through this crazy time in their lives, and be like, "Man, what's happening with those guys? Are they okay? Are they going to make it? Can we help? What's going on?" And we just sort of watched these things happen and just decided it was kind of a good place to start telling a story.
And that's part of every movie. You want to tell this story. What's the story going to be? And the more we watched our friends go through this stuff, we realized, "Yeah, this is a real thing." And it became the story that we told, and we were able to wrangle together this insanely talented cast, and tell this beautiful story.
IFC: With "Bridesmaids," "Friends With Kids" and Judd Apatow's new movie "This Is 40," the focus seems to have shifted to telling comedic stories about 30 to 40-year-olds. Do you think that's a shift that we'll continue to see?
JH: Well I just think that we're just getting older. [laughs] I think that there's a lot of 16-year-old girls out there who are anxiously anticipating "The Hunger Games." Unfortunately, this is counterprogramming to that.
I think yeah, sure, I mean I think we're getting older and so the stories we're telling are getting older, and eventually we'll get so old that no one will want to listen to our stories. But hopefully we haven't reached that yet.
Are you planning to check out "Friends With Kids" when it hits theaters Friday? Tell us in the comments section below or on Facebook and Twitter.