SXSW 2012: "Small Apartments" cast wish Johnny Knoxville a happy birthday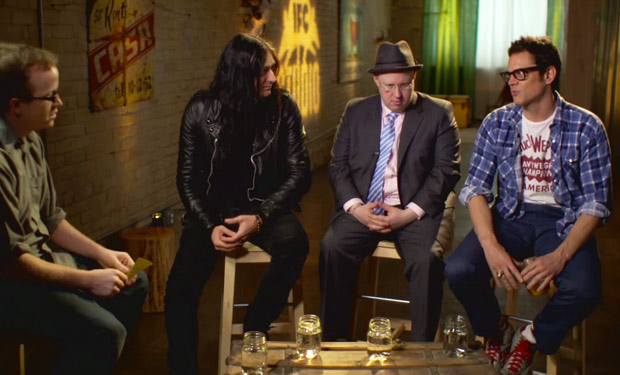 Posted by Terri Schwartz on
The early SXSW reviews of "Small Apartments" might have heralded the film as "weird," but we like to think that's what makes it all the more special. At least, that's what we told director Jonas Akerlund and cast members Matt Lucas and Johnny Knoxville when we caught up with them at SXSW.
The movie follows a man who might have killed his landlord, or is just stuck in some pretty unfortunate circumstances. With characters who have names like Franklin Franklin and Mr. Allspice, "Small Apartments" is full of quirks, and its cast and director embrace it for that.
"It's a dark movie with some comic elements," explained Lucas during the interview. "It's about a collection of characters who live in a very run down apartment block somewhere in the US. And the character I play may or may not have murdered his landlord, and may or may not be framed or found guilty, and may or may not escape. That's what you've got to find out during the movie."
video player loading
.
.
.
Needless to say, Lucas plays main character Franklin Franklin. And Knoxville plays his neighbor who is sweet-hearted but a total pain in the butt, something that's a little bit out of character for the former "Jackass" star.
"I would be Tommy Balls. You can call me Mr. Balls throughout this interview. That would be creepy," Knoxville said. "I live right next door to Franklin Franklin, and I'm essentially a sweet guy, but a pain in the ass for Franklin who's trying to hide a dead body he may or may not have murdered.
Akerlund seems to think it's the quirkiness of "Small Apartments" that makes it fit in all the better in SXSW. "It just feels like we're, like you said, we're keeping it weird, and we're blending in just fine here," he said with a laugh.
Are you okay with the weirdness of "Small Apartments"? Tell us in the comments section below or on Facebook and Twitter.