Coming Soon to IFC: Portlandia, Marc Maron, New Trapped in the Closet, and more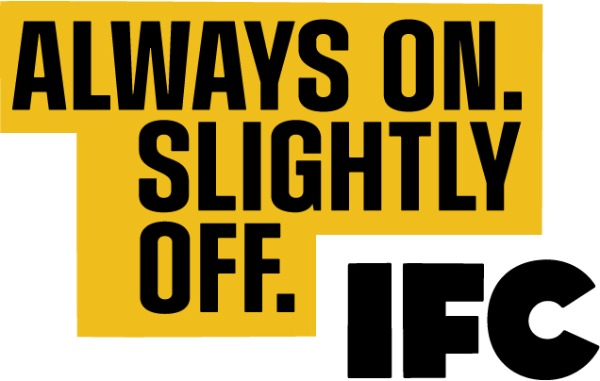 Posted by Melissa Locker on
Today we had our network's first-ever Upfront event. That's industry speak for telling you all the exciting things we have in store for you during the upcoming 2012/2013 season. So how will we be entertaining you this year? Let's count the ways. First, we're thrilled to announce that Portlandia is coming back for a third season. That means more Fred, more Carrie, more hilariously spot-on skewering of the lovely city of Portland, OR. After you put a bird on it, we want you to put a beard on it, because we also announced a second season of Whisker Wars. Start growing your 'staches, because competitive bearding is a thing and we're making it happen.
But we didn't just renew our favorite shows for the coming year at IFC. Nope, we have some exciting additions to our line up, including two new scripted comedies: The animated series Out There, and Maron (working title), featuring comedian and podcast phenom Marc Maron. Plus, the news you've been waiting for, there's a brand new installment of R. Kelly's hip hopera, Trapped in the Closet. Yes, hide your wives, hide your daughters, R. Kelly is back on IFC and we couldn't be more excited.
We also announced that Scott Aukerman's Comedy Bang! Bang! podcast-turned-talk show and the slightly off game show Bunk will premiere back-to-back on Friday, June 8. Clear your schedule now!
You want details? We have details:
COMEDY BANG! BANG!
Premieres Friday, June 8
Based on Scott Aukerman's (co-creator/director/producer, Between Two Ferns with Zach
Galifianakis; writer/performer, Mr. Show) popular podcast of the same name, COMEDY BANG!
BANG! cleverly riffs on the well-known format of the late night talk show, infusing celebrity
appearances and comedy sketches with a tinge of the surreal. In each episode, Aukerman engages
his guests with unfiltered and improvisational lines of questioning, punctuated by banter and
beats provided by bandleader, one-man musical mastermind Reggie Watts (Conan), to reinvent the
traditional celebrity interview. Packed with character cameos, filmic shorts, sketches and games
set amongst an off-beat world, COMEDY BANG! BANG! delivers thirty minutes of absurd laugh-
loaded fun featuring some of the biggest names in comedy.
Elizabeth Banks (The Hunger Games), Michael Cera (Arrested Development), Zach Galifianakis (The Hangover), Jon Hamm (Mad Men), Ed Helms (The Office), Amy Poehler (Parks and Recreation), Seth Rogen (50/50), Paul Rudd (I Love You, Man), Adam Scott (Parks and Recreation), "Weird Al" Yankovic (comedian/musician), and many others, all join in on the laughs with Aukerman and bandleader, one-man musical mastermind Reggie Watts (Conan).
Watch a sneak peek here:
video player loading
.
.
.
---
BUNK
Premieres Friday, June 8
BUNK is a comedy game show where a panel of comedians compete in inane challenges to win surreal prizes. Contestants are armed with nothing but their wits as they respond to images they've never seen before, make up songs on the spot, complete drawing and sculpture challenges and interact with modern dancers, puppies, babies, gospel singers and more, all under the watchful eye of host Kurt Braunohler.
Check out a preview below, and then click here to hear Kurt delve more into the show.
video player loading
.
.
.
---
TRAPPED IN THE CLOSET
Premieres Winter 2012
Part contemporary movie musical, part urban operetta and part epic music video, TRAPPED IN THE
CLOSET initially debuted on IFC and ifc.com in 2007 delivering the network's most robust online
audience ever. The premiere chapters were a suspenseful, mysterious, humorous and dramatic story, packed with cliffhangers and unexpected twists and turns. Now, Sylvester, Rufus, Cathy, Gwendolyn, Bridget, Big Man, Rosie the Nosy Neighbor, Twan and Pimp Lucius are back! This year, the crew reunites on IFC in the next installments of R. Kelly's continuing hip hopera about a group of characters interconnected by sexual exploits, little people and a mysterious package.
video player loading
.
.
.
---
WHISKER WARS SEASON 2
Premieres Winter 2012
The fascinating and hair raising world of competitive beard growing returns for a second season
with six all-new episodes chronicling the devoted whisker warriors who travel the globe competing
for top bearding honors. In this season of the IFC original docu-comedy, narrated by Emmy®
award-winning producer Thom Beers (Deadliest Catch, Ice Road Truckers), tensions are at an
all-time high between the Austin Facial Hair Club and bearding champion Jack Passion, as both
compete to be world champions.
video player loading
.
.
.
---
PORTLANDIA SEASON 3
Premieres January 2013;
PORTLANDIA: THE BRUNCH SPECIAL Airs Summer 2012;
30-Minute Special Airs Holiday Season 2012
From the comedic duo of Fred Armisen (SNL) and Carrie Brownstein (Sleater-Kinney, Wild Flag),
the critically acclaimed PORTLANDIA caught viewers by storm, infiltrating catchphrases into
the cultural conversation such as "Put a Bird On It" and "We Can Pickle That." Hailed by Salon as
the "smartest sketch comedy show on TV," the second season, which concluded on March 9, is IFC's
most-watched series ever, delivering 13.5 million total viewers (P2+), marking a +150% increase
over season one.
Throughout the first two seasons of PORTLANDIA, viewers were introduced to a variety of eccentric characters, including Peter and Nance, an overly eco-conscious couple caught up in the organic and local food movement; Bryce and Lisa, an artsy, obsessive couple who find new trends to explore; and Toni and Candace, the formerly activist, self-involved shopkeepers of the feminist bookstore, "Women and Women First." The show continues to feature an eclectic roster of guest stars including Kyle MacLachlan's recurring character as Portland's trusty but misguided mayor, Jeff Goldblum, Penny Marshall, Tim Robbins, Andy Samberg, Eddie Vedder, and Kristin Wiig, to name a few.
In addition to an all-new season, IFC is offering viewers, who just can't seem to get enough of PORTLANDIA, a one-hour special this summer, titled PORTLANDIA: THE BRUNCH SPECIAL, followed by a second half-hour special in time for the holidays later this year.
Here's a clip from season two of "Portlandia":
video player loading
.
.
.
---
OUT THERE
Premieres January 2013
OUT THERE follows the coming-of-age adventures of Chad, his little brother Jay, and best friend Chris. Living in a small town, the boys run face first into the wall of adolescence, the horrors of puberty, first loves, mortal enemies, local legends, and social ostracism. They experience the wonderment and frustration of that terrifying limbo between childhood and adulthood. Growing up is weird to do… OUT THERE.
---
MARON (working title)
Premieres 2013
Marc Maron has been a comedian for 25 years. He's had his problems. He was an angry, drunk, self
involved, twice divorced compulsive mess for most of his adult life, but with the popularity of a
podcast he does in his garage and a life of sobriety, his life and career are turning around. MARON
(wt) explores a fictionalized version of Marc's life, his relationships, and his career, including his
incredibly popular WTF podcast, which features conversations Marc conducts with celebrities
and fellow comedians. Neurosis intact, Maron is uniquely fascinating, absolutely compelling and
brutally funny.
For a little info on the man himself, here's Marc Maron talking to Doug Benson, Scott Aukerman and Alex Blagg at SXSW 2011: