"Hangover" series to climax with third installment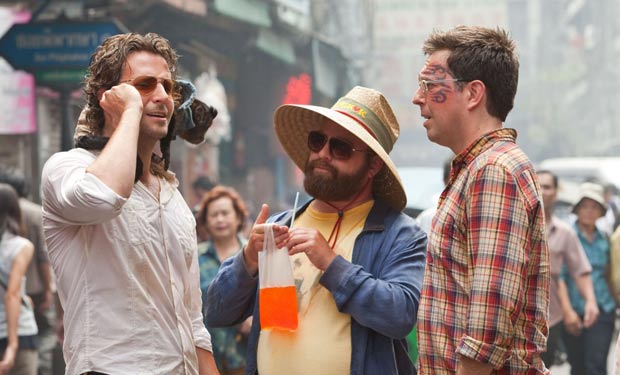 Posted by Aubrey Sitterson on
We loved the first "Hangover" film, with the unstoppable rise of Bradley Cooper counteracted by the one-two punch of Zach Galifianakis getting the recognition he deserves, and a pitch-perfect Ed Helms performance. The second film stretched the feasibility that the trio could find themselves in the same dilemma, but the box office guaranteed a return to the big screen. It now appears that the third night of debauchery, completely forgotten by "The Wolfpack" in "The Hangover Part III," will be the final entry in the franchise.
After the ridiculous success of the second "Hangover" movie, it should come as a surprise to exactly no one that Warner Bros. is going for a threequel, re-teaming Bradley Cooper, Ed Helms and Zach Galifianakis with director Todd Phillips. Production on "The Hangover Part III" is scheduled to begin in September of this year, and while there aren't any details about the story, it's probably a safe bet that the three guys go to some event (odds are the wedding of either Galifianakis or Cooper's characters – maybe both!), get blackout drunk and then run into Ken Jeong. Also, seeing as they were responsible for a baby and a monkey in the first and second movies, respectively, we're expecting the Wolfpack to take in either a baby sloth or an angry honey badger this time out – maybe both!
In a press release that can be read in full over at Deadline, Phillips was quoted as saying, "We're going to surprise a lot of people with the final chapter we have planned. It will be a fitting conclusion to our three-part opera of mayhem, despair and bad decisions." So, maybe they all…..die?
How do you feel about the Wolfpack's saga coming to a close in the third "Hangover" movie? Tell us in the comments below or on Facebook or Twitter.