"Goon" – impressions of a hockey movie masterpiece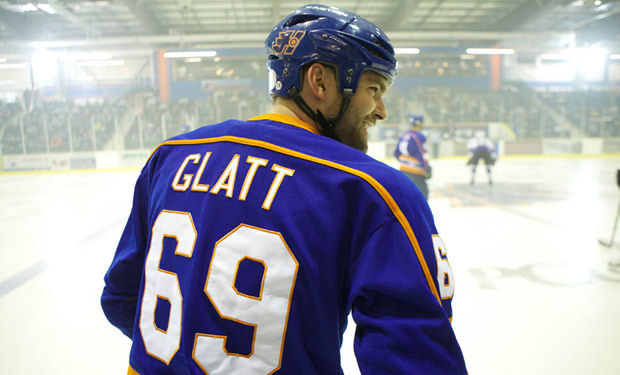 Posted by IFC on
By Jordan Hoffman
Movies about baseball, basketball or football present a vocation rich in glory, glamour and dignity. There haven't been too many films about hockey, but each one I see makes it look like a tour in 'Nam. "Goon," directed by Michael Dowse and co-written by Jay Baruchel has the makings of a frat house masterpiece and may just be my favorite, rowdy sports flick since the original "Bad News Bears."
Try to imagine Lenny from "Of Mice and Men" on skates and you've got Doug Glatt. Seann William Scott is wonderfully cast as the kind hearted blockhead whose ability to both take and deliver a punch may lead his team toward victory. When we first meet him he's working as a bouncer and looking for direction. (His domineering father played by Eugene Levy is a successful doctor, and not very proud of his son.) His best buddy, Baruchel, is a Grade-A New England dirtbag and hockey blogger. After a trip to a local minor league game leads to a fight in the stands, Doug finds himself with an offer to lace up and join as an enforcer, or, as is commonly known, be the (I bet you didn't see this one coming) Goon.
One musical montage later (Canadian deities Rush, of course, with one of their early ones) Doug finds himself moved up from a team "not named for a radio station" but an actual major league farm club. His job is simple: protect the star player Guy LaFlamme, a hard-partying bozo, but a truly great player whose confidence is shot after a recent injury.
The injury came from the high stick of Ross Rehna, the mustachioed elder statesman of Goon-dom played by Liev Schrieber. The stage is now set for an operatic match-up as the bloody gloves prepare to be passed to the next generation.
Of the seven hundred things I love about the movie "Goon," most stem from this: it makes no apologies. It revels in its brawls, belches and blue humor. Yes, there's a race to the playoffs, but this is all secondary to true aims of our hero – and his goal, as is made perfectly clear – is to beat the hell out of Liev Schrieber. Oh, there's team camaraderie galore, but it is stripped of much of the usual sports cliché bullshit and this refreshing honesty makes you care about the outcome even more.
By some miracle it actually does a decent job of explaining how the psychology of sanctioned fighting actually works in hockey. (I've often heard drunken yahoos, often with Boston accents, say "it's paaht of the game," but "Goon" was the first time I ever saw how.)
A sports film is nothing without its side characters and "Goon" has a locker room full of classic sociopaths. There's also the best announcer since "Best in Show" and a fantastic angry coach in Kim Coates. The second he appeared I sprang up in my seat – aw, man, Tig from "Sons of Anarchy" is gonna scream at 'em on a bus! "Goon" does not disappoint, and he gets in a line that every kid on a hockey team will be quoting from now til the day the world freezes over.
"Goon" is a marvelous picture and, yeah, it's "got heart" – but it is also smart enough to know that its core audience is too boozed-up and rowdy for too much heart. It is loud, violent, but really, really sharp. There are moments when the jokes are flying by as fast as the puck, so I'm sure I missed something. I'm sure I'll get 'em all eventually, as this is a movie that'll play on cable for years and always get you to stop flipping because "oh, wait, this next scene is the best."