The best hockey fights in movie history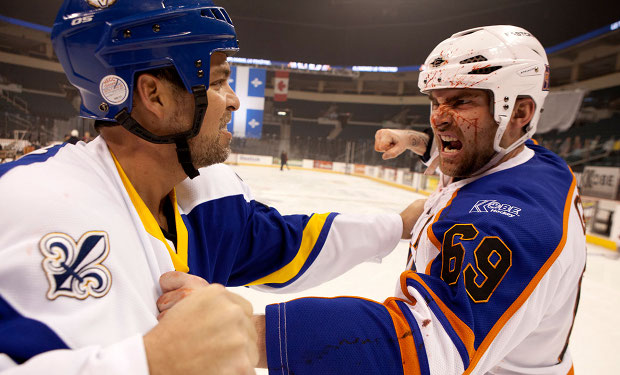 Posted by Rick Marshall on
"Slap Shot" (1977)
It's one thing to get into a fight during a game, but it's another thing when your players can't even wait for the game to start before dropping their gloves and going at it. "Slap Shot" is widely regarded as one of the best hockey movies ever made, and this scene featuring a pre-game fight and its aftermath is one of the sequences that made it so darn memorable.
---
"Strange Brew" (1983)
Bob and Doug McKenzie might not be your typical hockey studs, but they're more than happy to suit up when their favorite brewery is in danger. In this scene from the 1983 classic starring Rick Moranis and Dave Thomas, the brothers suffer a cruel fate at the hands of evil Brewmeister Smith's brainwashed, hockey-playing minions.
---
"Youngblood" (1986)
Rob Lowe played flashy puck-handler Dean Youngblood in this 1986 film that also featured Patrick Swayze as Dean's mentor in the Canadian Junior Hockey League. In the climactic brawl between Dean and the brutish Carl Racki (George J. Finn), who almost ended Youngblood's career earlier in the film, the pair use their hockey sticks like swords, then turn to good ol' fists when the action heats up.
What are your favorite hockey fights from movies? Chime in below or on Facebook or Twitter.