The best hockey fights in movie history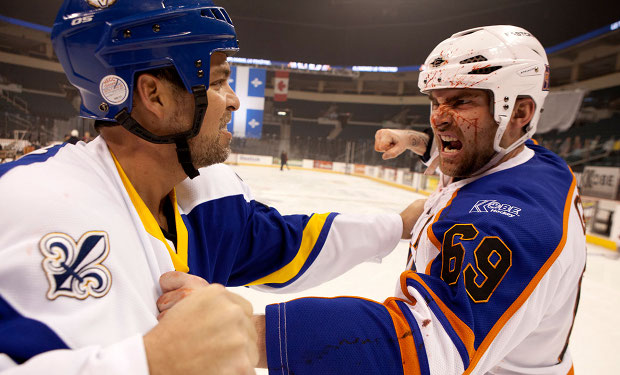 Posted by Rick Marshall on
"Goon" skates its way into theaters this weekend, featuring Sean William Scott as a former bouncer who punches his way to glory on a minor league hockey team.
From bloody brawls to surreal skirmishes played for laughs, hockey fights have a habit of breaking out in every film with a stick and a puck. Over the years, there's been quite a few movies to feature memorable feats of hockey-related pugilism — both on and off the ice.
So with that in mind, here are some of the best hockey fights in movie history.
---
"Canadian Bacon" (1995)
In this 1995 film written and directed by Michael Moore, John Candy plays a hockey-loving sheriff who kicks off a war between the U.S. and Canada when he insults Canadian beer. The massive brawl that results from his comment features American and Canadian hockey players — and fans — trading punches on the ice and in the stands.
---
"Clerks" (1994)
Sure, the hockey fight from Kevin Smith's debut film didn't happen on the ice, but there's something to be said for a brawl that erupts in a rooftop game of hockey. Let's face it: if Dante Hicks (Brian O'Halloran) knew what awaited him when he agreed to come into work on that particular morning, he never would've left his bed.
---
"D2: The Mighty Ducks" (1994)
While the family-friendly Disney film "The Mighty Ducks" introduced the world to Gordon Bombay's hard-luck team of hockey kids, it was the 1994 sequel that gave the world the "Bash Brothers," Fulton Reed (Elden Henson) and Dean Portman (Aaron Lohr). The two-man team provided the muscle for teenage Team USA, and offered a toned-down take on hockey goons that had the competition shaking in their skates.
---
"Happy Gilmore" (1996)
We all know that Adam Sandler's title character in this 1996 film was an aspiring hockey player who found success on the professional golf circuit, but it was a brawl on the ice that ended his puck-handling dreams. In the beginning of the movie, we see Happy lay the smack down on both the coach who denied him a spot on the team, and quite a few of the players who jump in, too.
---
"The Rocket" (2005)
This 2005 film tells the story of Canadian hockey legend Maurice "The Rocket" Richard (played by Roy Dupuis) and his rise to fame in the National Hockey League. Along with showing his struggles off the ice in adapting to the league, the film also features more than a few memorable fights on the ice — including a climactic confrontation with New York Rangers enforcer Bob Dill, who's played by real-life hockey bruiser Sean Avery.