Catching up with 2012 Subway Fresh Artists finalist Gregory Williamson from "Frat House Musical"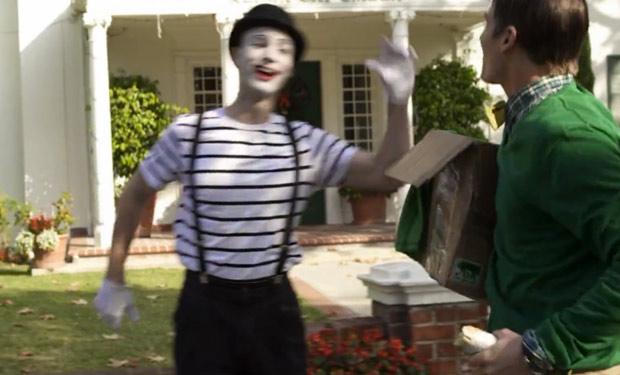 Posted by Todd Gilchrist on
Suffice it to say that collaboration is an important of any kind of filmmaking. But for his entry in the SUBWAY Fresh Artists™ Filmmaker Series, "Frat House Musical," producer Gregory Williamson discovered not only how essential a part of the process that it is, but how much it can actually strengthen the end result. Williamson is a member of one of two teams from USC that received funding and support from Subway Restaurants to create a series of webisodes for the company's Fresh Artists™ competition, and in a perfect convergence of effort, form and content, he and his collaborators, writer and co-producer Billy Sullivan and director Jin Yoo-Kim, created a short, entertaining series about an idealistic singer whose determination to join a fraternity forces him to work together with other members to save their house.
IFC caught up with Williamson to discuss the process of putting together "Frat House Musical." In addition to revealing the idea's origins, Williamson offered some insights into how he utilized the competition's resources to flesh out his group's idea, and indicated how much it has inspired him going forward as he finds more creative opportunities in the field of filmmaking.
video player loading
.
.
.
Watch the rest of "Frat House Musical" and learn more about the SUBWAY Fresh Artists™ Filmmaker Series by clicking here.
---
IFC: Just to get started, talk about how you first became aware of the Subway competition and then how you came up with the idea for Frat House Musical.
WILLIAMSON: I first heard about it last year, when last year's groups did it. USC had been doing a project with Coca-Cola for a while and last year switched from Coke to Subway, so I heard about it through the general USC channels there. Why didn't I compete last year? I think that I just wasn't ready. I was working on some other projects last year and the timing wasn't right. But this year, the other two people on my team came to me. I'd worked with both of them quite a bit before on other projects and they came to me with an idea. As far as the actual beginning of the idea, the writer on the project had moved here from Minnesota and he'd been kind of fascinated by fraternity life, because actually where all three of us came from, we didn't really have fraternities at the schools. It was kind of something that we just saw on television and in movies. And we got here to USC and USC has this bona fide fraternity row. And I remember all three of us, at one point, walking down it and going, wow, this stuff really happens, like in the movies. So we were just throwing around ideas of what are the some [crazy] things that could happen and our writer was like, well, it obviously has to be a musical. I had done a lot of music and musicals before I had come to film school at USC, but since I started doing the film program I hadn't done any music or musicals. I just jumped at that chance — like "you're right, this has got to be a musical, and we're calling it 'Frat House Musical'."
IFC: What was the process of putting together a story, and how did you sort of tailor it if at all to the competition?
WILLIAMSON: Well, this was the first time any of us had really ever worked in an episodic format and that's one of the things that I think was really enjoyable about this project. In the film program, we generally work on short films or a television episode, but we hadn't really worked on episodic storytelling. So it was a challenge but it was also a lot of fun to try and figure out how do we take this story and use what storytelling techniques you'd learned and then apply that to the episodic format of five-minute webisods. So it was sort of like making a short film and then two sequels to it.
IFC: Was there anything in terms of the criteria for the competition, maybe having to incorporate the branding of Subway into it, that affected your storytelling choices?
WILLIAMSON: The branding? Not in a big way. Subway was surprisingly and thankfully not interested in doing really heavily branded episodes. They didn't want it to feel like a Subway commercial, which felt really good, in part, I suppose, because we haven't really had to make commercials, but in part because it also gave us a little bit more freedom with the actual storytelling. We knew that we needed to have Subway present in all of the episodes. Subway told us that what they wanted to promote in this project was their breakfast sandwiches, so as we were throwing around ideas, it just kind of made sense to have each of the episodes start out with the characters starting their day with a Subway sandwich.
IFC: When you came up with this idea, was it something that you thought of as something that could continue beyond this, or was it something you feel like would be pretty self-contained to this competition?
WILLIAMSON: We loved the idea of continuing the story and doing either additional webisodes or doing like the feature version, something that would give us a larger platform from which to work. So, yeah, in the earliest stages, we were talking about how do we tell enough of a story in three episodes but still leave enough loose ends to continue this story should we ever find that opportunity. As the project went along and we were developing it, we did still keep some of those loose ends, but we didn't want to feel like we were trying to pitch a larger webisode to anybody. We wanted to sort of give that completed feeling of the story or of the journey for the characters.
IFC: Because of the money and/or resources that the contest afforded you, how did that affect your creativity or the things that you guys were able to do? Were things that you guys felt bolder about trying to include as a component of the storytelling because you knew that you might have a little bit more money to play around with or more access to things than you might if you were just doing a normal sort of student production?
WILLIAMSON: Well, Subway provided the funding for us and USC provided the additional resources, as far as equipment and insurance and general sort of production resources. I think that the benefit that we felt from this project was really more about sort of the profile of this project at school — there's only two Subway projects happening at school and that gave us a little bit better opportunity to attract more and new people to work with within the program, as well as a recognizable brand, a recognizable name behind us that we could go out into the community and find a higher caliber of actor than we might be able to do just as a USC project. But I think the biggest limitation that we were up against was the schedule of the project because that was pretty crazy. You know, we went from pitching the project and then being notified that our project was selected to our first day of production in, gosh, it must have been like two and a half to three weeks — you know, not much time at all, and we had decided early on that we were just going to go for it. And with a musical, we needed to have the production value, so we weren't going to cut anything that we didn't absolutely have to in terms of music and actors and singers and dancers and locations. It was a pretty ambitious project and Subway kept telling us that throughout the project, so I'm not sure we really realized just how ambitious it was until we were on set trying to get it done.
IFC: How indicative do you feel like this project is in terms of the things that you want to do going forward?
WILLIAMSON: Well, personally speaking, I like a pretty broad range of projects. I don't tend toward comedy. I like pretty much everything else. But comedy was always a little bit daunting to me, so it was kind of a nice opportunity to try that. I think that musicals, we'd all love to do a musical again; that part was a lot of fun. But I think that in terms of type of project I don't think any of us had every really considered doing musical webisodes before, so I'm not sure I could say that's really indicative of what we want to do long term. But, yeah, it was a complex project that will be, I think a great educational experience and a stepping stone to something else after that. This project was really the first opportunity any of us at school or any of us on our team had had since we've been at school to work with a client and to really have the input from a client, somebody else who has final say on scripts and casting and final cut. So I think that that was probably one of the best benefits of this experience was having all that collaboration. I mean, I know that some people sort of look down on having a studio or a client, just somebody to answer to in terms of creative freedom, but I think we actually really benefited from it.
IFC: What through this process and do you feel like you really learned? Were there any unexpected surprises from the production that you feel like you'll take with you in your future work?
WILLIAMSON: I guess I'd have to continue with that same thought and say that working with a client – I mean, we kind of had our trio, which was the "Frat House Musical" team, and then we had this layer of USC and then beyond that we have this layer of Subway. So we had these three layers of collaboration that we would go through. And with such a tight time frame, sometimes it felt really crazy, having to go back and continuously revise the script or completely change our casting choices. But I think that all of us learned the value of that sort of collaboration, the value of having somebody else's eyes on the project and with ideas that maybe we hadn't thought of, because really we all wanted the best project we possibly can. And I think that our biggest blessing was probably just opening up to that sort of collaboration and embracing it in every way we possibly could and just continuing to run. I guess maybe that would be the biggest thing that we would take from this, just an enhanced, a higher level or maybe a more elaborate type of collaboration and how it benefited the project.