Exclusive: First photo of Karel Roden from "Frankenstein's Army"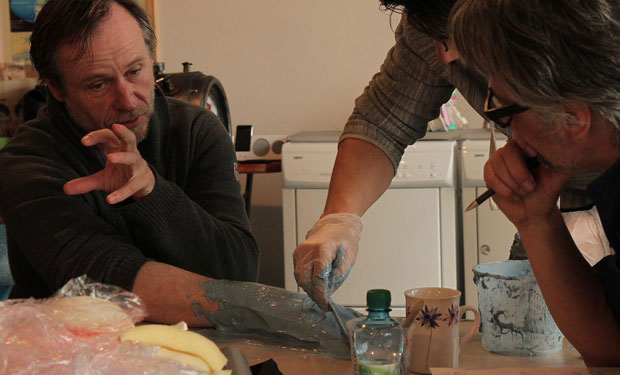 Posted by Terri Schwartz on
Here's some exciting news for fans of horror/history mash-ups. Yesterday Variety revealed that the latest actor to join the cast of "Frankenstein's Army" is Karel Roden, a man best known for his scene-stealing roles in "The Bourne Supremacy" and "Hellboy," and today IFC got our hands on an exclusive new photo showing Roden talking to the crew of the film during pre-production.
It looks like he is having some sort of cast being made of his arm, which could mean that there are some big special effects that are going to be at play in the movie. After all, this is a film Hitler using Frankenstein monsters to win World War II, so we do expect good amounts of blood and gore.
According to a press release from Dark Sky Films, Roden will play Viktor Frankenstein, "a charismatic but wildly megalomaniacal scientist whose experiments with the living dead could turn the tide for Hitler's Nazi forces toward the end of World War II." It turns out that Hitler's scientists have been experimenting with his work, and have created an entire army from the body parts of Nazis' fallen soldiers to try to turn the tide against the Russians.
"Frankenstein's Army" is currently shooting in and around Prague. It marks the debut of Dutch director Richard Raaphorst. It also stars Alexander Mercury, Mark Stevenson and Joshua Sasse.
Are you looking forward to "Frankenstein's Army"? Tell us in the comments section below or on Facebook and Twitter.