Five Reasons to Watch "The Descent" Tonight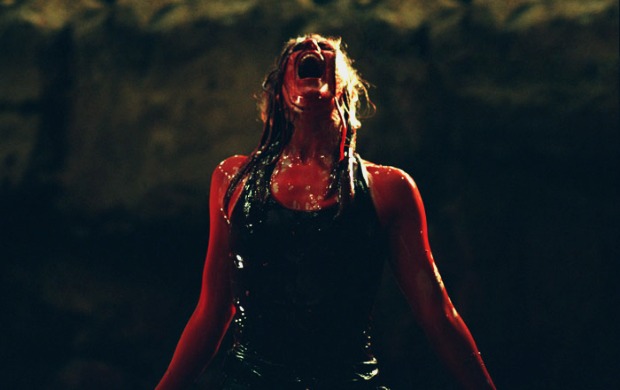 Posted by Melissa Locker on
In "The Descent," which airs tonight at 8/7c, we find a group of close female friends on a yearly adventure vacation find themselves trapped and hunted in a series of caves by an unknown force that lurks in the shadows. But this is no sorority-house slasher flick (not that there's anything wrong with those) where the ladies all hide in the bathroom waiting for the door to be axed down. These women are tough and unwilling to back down no matter what they encounter in the dark caves, be it human betrayal or flesh-eating creatures.
The second horror feature from "Dog Soldiers" writer/director Neil Marshall, the story follows the friends trying to find a new normal after a devastating car crash the year before. Sarah (Shauna Macdonald) is lured to the States by her friend Beth (Alex Reid) to a special spelunking trip by the fearless Juno (Natalie Mendoza), who abruptly fled from the U.K. after the accident. Along with two old friends and a new acquaintance of Juno's, the group embark on a cave expedition that takes a turn for the worse after a rock fall leaves them stranded in an uncharted cave with no map and only a handful of supplies to last them the rest of the trip. As tensions arise in the group, they are faced with another danger — one whose love of the dark is as strong as its lust for blood. Opening to rave reviews in the U.K. in July of 2005, the creature-feature went on to show at the Venice Film Festival and garnered the top prize for Euro feature at Sweden's Fantastic Film Festival.
Here are five reasons to watch "The Descent" tonight:
1. Spelunking = Bad
Crawling through caves is creepy and unnatural behavior. We as a species have evolved past lurking in dark caves, unless those caves have comfy couches, wifi, and a giant television. "The Descent" finally shows what a very very bad idea it is to retreat to the neanderthal lifestyle.
2. Alex Reid
When not covered in red slime in a dark cave, Alex plays Sally on series 1 and 2 of "Misfits," the epic sci-fi drama that airs over the pond. In that show she is a probation officer who has to watch over a group of young offenders who gain supernatural powers after a strange electrical storm. She is even more bad ass in this film.
3. Neil Marshall
"The Descent" was Marshall's sophomore film and he deftly directed the all-female cast in this riveting and claustrophobic horror film produced on an extremely low-budget.
4. Subterranean humanoids
We're not going to say anything else, but come on, you know you want to know.
5. Shauna Macdonald
While not the most recognized household name, Macdonald has made a career out of starring in horror flicks. Not only did she star in "The Descent" and "Descent 2," but also in "The Mutant Chronicles." And the forthcoming "The Hike" doesn't look any less horrifying. You have to admire a woman who remains true to her craft.
"The Descent" airs on IFC tonight at 8/7 c and again at 12:30 a.m./11:30 p.m. c