Ten horror movies for women and the men who love (being scared by) them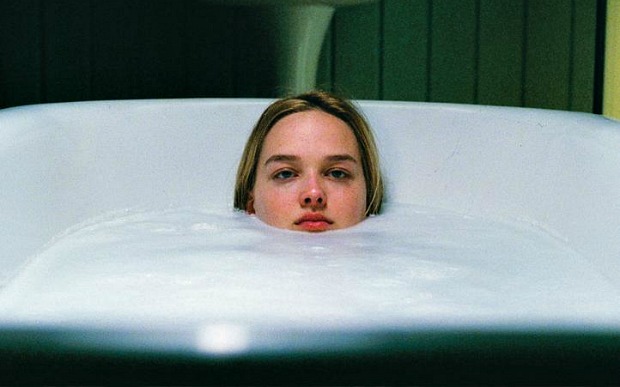 Posted by Melissa Locker on
Do we have a treat for you tonight. At 10/9c we are showing "Teeth," a movie you can really sink your teeth into. Haha JK we wouldn't make a joke that bad. (Or would we?) In "Teeth," Dawn (Jess Weixler) is a proud virgin and the most active member of her local chastity group. Though she struggles with every ounce of her willpower to resist the pleasures of the flesh, Dawn finds her noble efforts to remain chaste repeatedly challenged by her disturbed stepbrother, Brad, whose advances are becoming increasingly difficult to resist. When he assaults her, she makes a startling discovery about her womanhood after becoming the victim of sexual violence. The discovery? Well let's just say that if you haven't heard of the vagina dentata myth before, you won't soon forget it. Dawn struggles to comprehend her anatomical anomaly while experiencing both the benefits and drawbacks of this strange new revelation.
We know that once you watch "Teeth" you'll just be begging for women to scare the pants off of you. So we made a list to help get you started:
1. "Ginger Snaps"
When Ginger snaps, you'll jump.
2. "The Hunger"
Even the pretty vampires are still vampires.
3. "Carrie"
Some may argue that Carrie's mother (Piper Laurie) is actually the scarier of the two.
4. "Audition"
Featuring one of the scariest women to ever grace the silver screen.
5. "Let the Right One In"
Remember, adorable vampire creatures are still vampire creatures
6. "Jennifer's Body"
Megan Fox as a possessed cheerleader? Yes.
7. "Alien 4"
At this point in the franchise is there any doubt that Ripley is scarier than the alien?
8. "Dead Alive"
Twenty-foot tall zombie-making mamas are hard to come by.
9. "Hard Candy"
Strangers shouldn't talk to little girls.
10. "High Tension"
No spoilers.
"Teeth" airs on IFC today at 10 PM ET; Friday, Mar. 2 at 4 AM ET; Wednesday, Mar. 21 at 10:15 PM ET; and Thursday, Mar. 22 at 12:20 AM ET