Exclusive Track Premiere: Y La Bamba "Viuda Encabronada"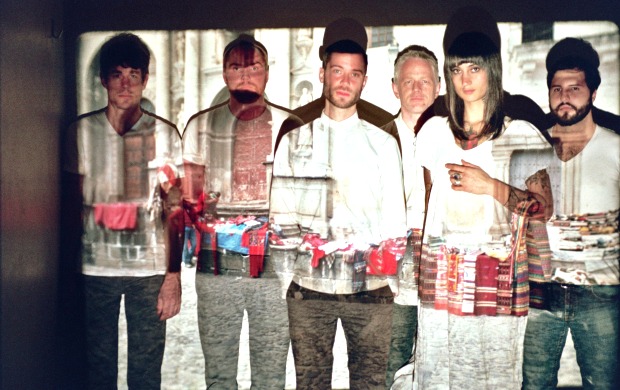 Posted by Melissa Locker on
Sometimes you just know that a band is destined for big things. Such is the case with Y La Bamba, a Portland, Or.,-based group that is poised for a break-out year with a heavy tour schedule and a new album, "Court the Storm," about to hit the shelves and flood the airways. The band, led by the dreamily powerful voice of Luz Elena Mendoza, combines indie rock and alt-folk with traditional Mexican music to create a sound that is uniquely their own, yet evocative of a complex musical history that reaches back centuries.
The songs layers cumbia beats over a quiet indie roar and soaring vocals, to create a depth of sound that other bands would trade their skinny jeans for. The combination of muted accordion, steady drum beats, and earthy harmonizing feels like you've stumbled on the love child of The Decemberists, Stevie Nicks, Molotov and Cafe Tacuba. One listen and you'll realize the buzz around this band is well deserved.
Their new album "Court the Storm" was produced by Los Lobos' Steve Berlin and features Neko Case on the title track and is in stores now, but if you want the album for free hop on Twitter before 11:59 a.m. PST. Here are the instructions: Follow @YLaBamba and use the hashtag #courtthestorm to get their new album featuring @NekoCase for free. That's right, full album for free. The offer expires at 11:59pm PST
We are thrilled to premiere their track "Viuda Encabronada". LISTEN:
Y LA BAMBA "MY LOVE IS A FOREST FIRE" from Dugan O'Neal on Vimeo.
Band photo: (Credit to Ingrid Renan)
Catch Y La Bamba on tour so you can say you saw them before they were huge:
03/04 PORTLAND, OR @ Music Millenium
03/09 ASHLAND, OR @ Alex's
03/10 SAN FRANCISCO, CA @ Brick and Morter
03/11 SANTA BARBARA @ Soho
03/14 AUSTIN, TX @ SXSW / Red Eyed Fly (IODA Party)
03/14 AUSTIN, TX @ SXSW / The Grackle (PDX Party)
03/15 AUSTIN, TX @ SXSW / Guero's (Mike Galaxy Presents 13th Annual Day Party)
03/16 AUSTIN, TX @ SXSW / Soular Food Garden (Fiesta Red Indie Fiesta)
03/17 AUSTIN, TX @ SXSW / Maison d'Etoile (Kevchino.com Showcase)
03/17 AUSTIN, TX @ SXSW / Maggie Mae's (TLE/Antenna Farm/Self Group Official Showcase)
03/20 PHOENIX, TX @ Crescent Ballroom
03/21 SAN DIEGO, CA @ The Casbah*
03/22 LOS ANGELES, CA @ Hotel Cafe*
03/24 SAN FRANCISCO, CA @ Cafe du Nord*
03/25 SANTA CRUZ, CA @ The Crepe Place*
03/26 MONTEREY BAY, CA @ Alternative Cafe
03/29 EUGENE, OR @ Axe & Fiddle*
03/31 SEATTLE, WA @ Neumos*
04/01 VANCOUVER, BC @ Media Club*
04/21 PORTLAND, OR @ Doug Fir (Album Release Show)
05/12 PORTLAND, OR @ Left Bank Annex (P:EAR Benefit)
05/20-05/26 PORTLAND, OR @ Al's Den (Luzelena Mendoza Solo Residency)
*w/The Lumineers