Call-In Commentary: Watch the "Detachment" trailer with director Tony Kaye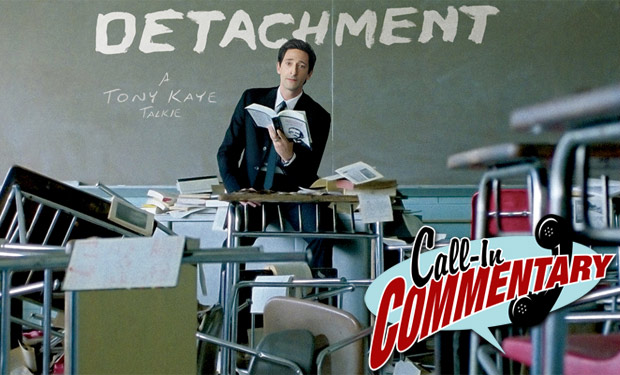 Posted by Brian Jacks on
Director Tony Kaye turned heads with his violent breakthrough "American History X" (and courted controversy when he washed his hands of it in response to reported editing room meddling by Edward Norton). Now after a decade plus break from Hollywood, he's returned with "Detachment," a powerful look at the foot soldiers in the war of education. In the film, Adrien Brody plays a substitute teacher who finds connections with both his students as well as fellow educators.
To get better insight into the film, we recruited Kaye for our Call-In Commentary series, where filmmakers provide audio commentary to their movie trailer. In the video below, hear the director discuss his main character, how it's not necessarily about the American education system, and just why he considers it an action film. "Detachment" opens in limited release on March 16.
video player loading
.
.
.
MORE CALL-IN COMMENTARIES:
– Watch the "Bending the Rules" trailer with WWE Superstar "Edge"
– Watch "The Snowtown Murders" trailer with director Justin Kurzel
– Watch the "Being Flynn" trailer with writer-director Paul Weitz
– Watch the "Tim and Eric's Billion Dollar Movie" trailer with Tim and Eric
– Watch the "Boy" trailer with writer-director Taika Waititi
– Watch the "Act of Valor" trailer with directors Mike McCoy & Scott Waugh
View more Call-In Commentaries…
Will you be checking out "Detachment"? Let us know in the comments below, or on Facebook or Twitter.