Robert Pattinson gets naked and violent in the trailer for David Cronenberg's "Cosmopolis"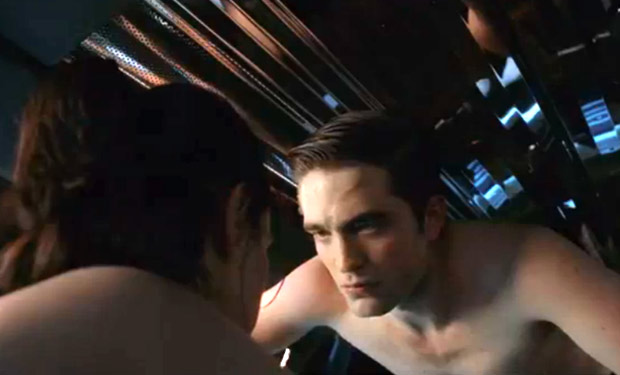 Posted by Aubrey Sitterson on
Are you a David Cronenberg fan stuck in a relationship with a devout Twi-hard? Do you like your movies to be both visceral and cerebral, while your significant other is more interested in dreamy, dead-eyed British dudes? Well, if the new teaser trailer for Cronenberg's Robert Pattinson flick is any indication, "Cosmopolis" might just be a movie you can enjoy together.
After the one-two, intense Viggo Mortenson-based punches of 2005's "A History of Violence" and 2007's "Eastern Promises," last year's "A Dangerous Method" seemed tame in comparison, especially for a Cronenberg film. But judging from the teaser trailer for "Cosmopolis," the director's next outing looks to be as intense, violent and sexual as anything he's ever done. Most shockingly perhaps, is that it all happens with "Twilight's" Robert Pattinson in the lead, lounging around naked, firing guns and doing various other non-Stephanie-Meyer-approved activities. Also, there's some kind of monster.
Check out the rather unsafe for work red band teaser below:
Based on the novel of the same name by Don DeLillo, "Cosmopolis" feature Paul Giamatti, Kevin Durand, Mathiew Amalric and others alongside Pattinson. The novel is the somewhat surreal story of a young New York City billionaire on a daylong mission to get a haircut. Along the way, he has sexual encounters, deals with his daddy-issues, and presumably, runs into some kind of monster. "Cosmopolis" does not yet have a United States release date scheduled, but it planned to hit theaters in France on May 23.
What do you think of the teaser for "Cosmopolis?" How do you feel about the casting of Robert Pattinson? Tell us in the comments below or on Facebook and Twitter.