Christopher Titus on comedy, being a loser, and "screaming truth" in his new anthology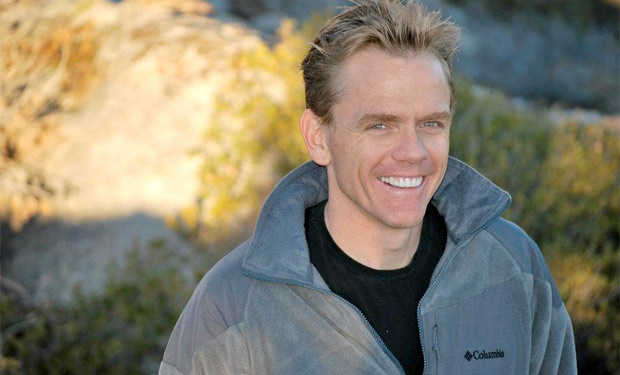 Posted by Rick Marshall on
After plowing through a decade's worth of comedy in the new anthology from veteran writer, actor, and comedian Christopher Titus, it's hard not to feel pretty good about my life. Not only did my parents get along pretty well, but I don't recall ever making a snarky comment that cost me my own television series.
For Titus, however, every bad experience — whether its cost is measured in dollars or emotional currency — is a one-man show in the making. He's had more than enough material to mine over the years, too – and it's all collected in his new, four-disc collection, "Get a Real Job, Numbnuts."
Encompassing all four of his comedy specials released between 2001 and 2011, "Get a Real Job" is a mix of Titus' unique brand of slice-of-life comedy and political commentary that chronicles a period filled with personal and professional upheaval for the comedian. From his first, critically praised one-man show, "Norman Rockwell is Bleeding," through the rise and fall of his hit TV series "Titus," and concluding with 2010's "Neverlution," the anthology is a fascinating (and funny) look at the nature of life, love, and getting by in a world that occasionally seems to be playing a joke on us.
IFC spoke with Titus about the new anthology, and what it feels like to have ten years of his life collected on four DVDs.
"You know when something bad happens in your life, and you react like, 'Oh my god, it's horrible!' Well, when something horrible happens to me now, my first reaction is still, 'Oh, crap!' — but my second reaction is usually, 'How do I turn this into a one-man show?'" laughed Titus.
For Titus, looking back on the decade of performances contained within the set has been an educational experience, though most of the lessons aren't the sort you learn in a classroom.
"It's made me know that everything is absurd," he explained. "We make our lives so heavy, and everything that happens is heavy and it's the end of the world . . . and with everything I've gone through with my family and everything else, it's just that: absurd. I need to be able to step back from the drama, and that's what these [shows] were for me."
Alternating between his musings on life as seen through the lens of his own admittedly dysfunctional family history and color commentary on current events, "Get a Real Job" collects his first four one-man shows: "Norman Rockwell is Bleeding," "The Fifth Annual End of the World Tour," "Love is Evol," and "Neverlution."
"The first one kind of encompasses my whole family," said Titus of the key personal themes and issues of the time that informed the shows. "With the next one, my daughter was born 16 days before 9/11 — so I knew that I was going to build it around that. They say 'comedy is tragedy plus time,' so every time a tragedy happens, all I think is, 'Oh, I have a new show.'"
"The third one was a product of my divorce," he continued. "That 90-minute special cost me $2.5 million, so I didn't make a dime on that one. [Laugh] And then 'Neverlution' came out of getting older and looking around and realizing how fucked things are, and wondering how to fix it. The only way to fix it is to tell the truth about it. A buddy of mine says, 'Scream the truth and everything will work out.' So that's my new thing: trying to figure out what the truth is."
Among the ten years that make up the anthology are also a few years he was working on his hit show, "Titus," a dark spin on traditional family sitcoms that he wrote, created, and starred in. His experiences on the show — and maybe more importantly, what he learned when a professional misstep got it canceled — are just some of the elements that inform the collection of comedy in "Get A Real Job."
As Titus explains it, the end of his self-titled show was the product of two sentences — just 14 words, in fact.
When the new president of FOX suggested during a company meeting that "Titus" should follow the lead of "Dharma & Greg," and have its lead couple (who were modeled after Titus and his ex-wife, Erin) cheat on each other, the comedian made a mistake he'll never live down.
"The whole point of the show was that two dysfunctional, screwed up people could make a decent relationship together, and that it doesn't matter where you came from, it matters who you are," he said. "So when they said, 'We want you to change the show and have Titus and Erin cheat on each other,' this is the sentence that cost me $30 million: I looked at the president of the network and said, 'Do you even watch the show? Let me explain to you how it works…'"
"So, yeah… I'm not just a normal loser," he laughed. "I'm the sort of loser who succeeds really well and then drops a turd in the punch bowl."
Still, as Titus discovered, the combination of regular one-man shows, a popular podcast, and various other projects have expanded his fanbase to include people who know nothing about his time as a sitcom television star.
"In a weird way, the podcast sometimes feels like better therapy than any comedy I've done," he said of his weekly online radio show that has him teaming up with his girlfriend and a close friend to discuss various topical and personal issues. Like his TV show, the podcasts usually begin with a monologue relating to that episode's theme.
"The world never disappoints," he said, when asked how he keeps coming up with material for his shows, podcasts, and everything else on his plate these days. "The world will give you a nightmare to talk about. Then, by the time the nightmare of the world has been milked, something horrible has happened in my life again, and I can do the next one about it."
"Get A Real Job, Numbnuts" is available now on DVD. You can get more information about the anthology at Titus' official website, www.christophertitus.com, where you can also find links to his podcast and other projects.