Chevy Chase and Dan Aykroyd to reteam on new comedy project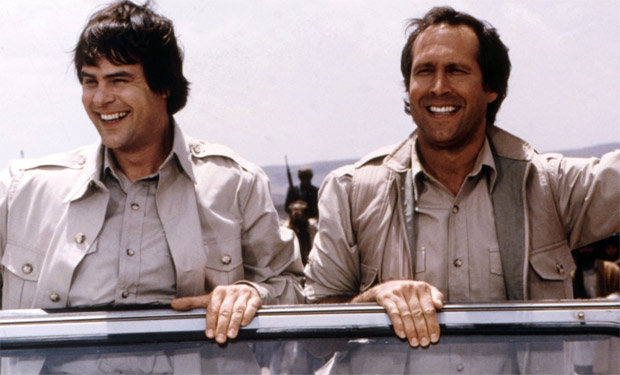 Posted by Terri Schwartz on
Feeling nostalgic for the comedies of ages past, like "Vacation" and "Ghostbusters"? Well, you are not alone. And Dan Aykroyd and Chevy Chase are going to do something about it.
The duo announced their plan to re-team and write a comedy screenplay together via Aykroyd's Facebook page. While we're still not sure that Chase even knows what Facebook is, Aykroyd obviously knew that the hip social networking tool was the best way to get this exciting news out.
"Chevy [Chase] and I are about to start work on a script concept for a comedy movie," he writes. "Cannot say too much about the concept, but the joy of working with him again is one that I am extremely excited about. Chevy is one of my favourite people, and one of the great anarchistic and physically committed comedians in the business."
Well there you have it. Somehow we doubt that this new comedy will fall in line with the modern trend of realistic dramedy-style films that people like Judd Apatow have made so popular. Instead, this film will likely be more similar to Chase and Aykroyd's previous collaborations that include 1985's "Spies Like Us" and 1991's "Nothing But Trouble." It's unclear if the duo will end up starring in — or directing — the movie as well, but for now we're just excited to hear that they'll be working together again.
In what direction would you like to see Aykroyd and Chase take this script? Tell us in the comments section below or on Facebook and Twitter.