The "Casa de mi Padre" cast weighs in on Will Ferrell's spanish-language skills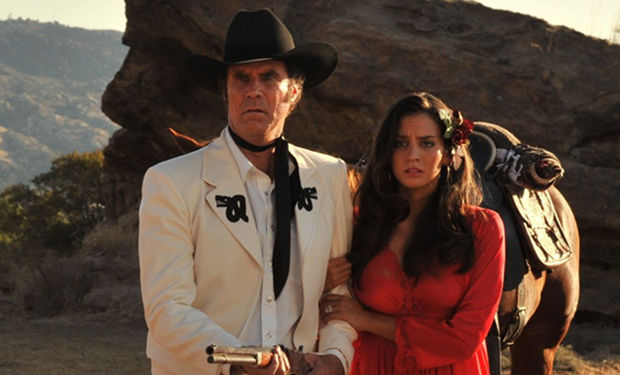 Posted by Rick Marshall on
We've seen Will Ferrell play everything from a human raised by elves to an ex-president, but this weekend's premiere of "Casa de mi Padre" could feature the popular comedian in one of his most challenging roles to date: a Mexican rancher who doesn't speak a word of English.
In the film, Ferrell plays Armando Alvarez, a man who must save his father's ranch from a dangerous drug lord played by Gael Garcia Bernal. Offering both a clever homage and hilarious parody of classic telenovela dramas, "Casa de mi Padre" is filmed almost entirely in Spanish (with English subtitles), and nearly every member of the cast speaks the language fluently.
All except for Ferrell, that is.
"I had enough going in where I could read [Spanish] fairly well," said Ferrell of his Spanish-language skills at the point when the cameras began rolling. "It wasn't that I was learning it phonetically or anything like that, and I didn't have to use a Marlon Brando-style earpiece or anything. [Laughs] I just got together with the translator and we'd go over lines nearly every day. We'd actually drive to the set together, drive home, and then start working on the next day's lines."
"It was complete immersion," he said of his crash course in the language. "I started dreaming in Spanish."
And apparently his hard work paid off, as his Spanish-speaking costars were quick to heap praise on Ferrell's command of the language.
"He's good… really good," Bernal told IFC.
And if anyone should know, it's Bernal — a native Spanish-speaker who has appeared in six Oscar-nominated films, including multiple nominations for Best Foreign-Language Film at both the Academy Awards and the Golden Globes. One of the most successful Mexican actors in Hollywood right now, Bernal lavished praise on Ferrell and his take on the dim-witted but honorable Armando Alvarez.
"When he found himself in trouble with a certain word, he would ask us questions, but he speaks really well, with a good, clear accent," said Bernal. "And [the times when he didn't], that was part of the character. The character is a little slow, so…"
Actress Genesis Rodriguez, who plays Ferrell's love interest in the film and also grew up speaking Spanish, took her praise for Ferrell a step further.
"I really think that Mexican actors should pay attention, because there's a new guy in town," she joked. "And he's ready."
Rodriguez noted that she had to change up her own Spanish in order to take on the proper accents for a Mexican character — something that made her even more impressed with Ferrell's grasp of the language.
"[It was actually] confusing for me, because he really dominated the cadence of the Mexican accent," she explained. "I'm Cuban-Venezuelan, so I had to change my speech in that sort of way, because I played a Mexican part. So for someone who does not dominate the language and does not really understand what he's saying, to pinpoint that sing-song way of saying things is extremely impressive."
Still, not everything came easy for Ferrell, who said he occasionally found himself at a loss for words when his costars improvised lines here and there or ad-libbed in the moment. Normally a master of improv who always gets an extra laugh out of a scene, Ferrell said his shaky grasp of the language outside of what he memorized led to a few long, thoughtful pauses while he tried to understand what was said. In fact, a few of those scenes made it into the final cut of the film, when Armando is seen contemplating something said by one of the other characters.
"When everyone was speaking so fast, and they're fluent, you don't realize what's being said," he confessed. "It was all I could do to make sure I got that day's work down and sounded authentic. We didn't want [any lines] to be dubbed in later or have to do the take again."
"I never doubted Will Ferrell," laughed Rodriguez. "I've been a fan for many, many, many years, and I thought that if there was one person to do it and take this type of risk, it would be him. And he did it just brilliantly."
"Casa de mi Padre" is currently in theaters. Chime in below or on Facebook or Twitter.