"The Cabin in the Woods" cast relive their SXSW premiere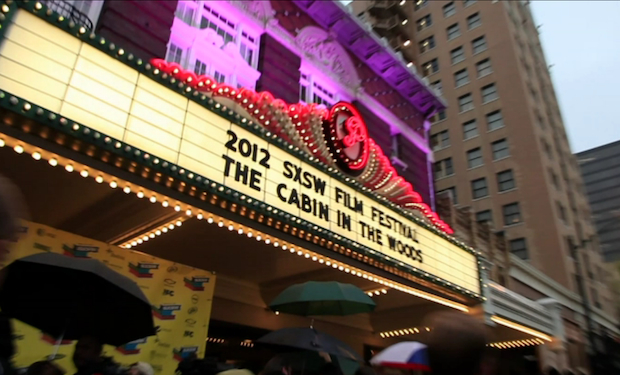 Posted by Terri Schwartz on
"The Cabin in the Woods," the long-anticipated horror mash-up from the creative minds of Joss Whedon and Drew Goddard, finally made its big premiere Friday night at the South by Southwest festival in Austin. And, according to the people who gushed about how great the film was after the screening, it was the perfect way to kick off the movie and music festival.
That's why it made perfect sense to premiere the movie at this festival, Whedon explained to IFC at the premiere.
"SXSW feels like a perfect venue for this, because it's a way of saying it is a horror movie, it is a really good time, but it's also a film," he said.
video player loading
.
.
.
The premiere was an exciting time for the cast (except for Jesse Williams, who was forced to miss it), Whedon and Goddard. Even though the film has been screened in critics circles before, this was the first time a movie-going audience got to see it.
"This will be the first time we've seen 'Cabin' with an audience, so we're both really excited to see how it goes," Goddard said to IFC before the premiere. "This movie was designed to be a fun movie, and hopefully our audience will go along with us."
And, from what we heard, the audience did. Turns out the crowd went "apeshit" after they saw the movie.
"I've never sat in a theater where people are laughing that hard, and are genuinely horrified and actually don't know what's going to happen next," Bradley Whitford admitted during an interview after the premiere.
video player loading
.
.
.
It also turns out that this was Whedon's first time at SXSW, so it was his big debut just like it was the premiere for "Cabin in the Woods."
"I haven't been to a lot of festivals. This is kind of my maiden voyage. But it's a really nice combination of business and art," Whedon said. "People who are here with their short film who are just starting out, those are the people that you see that are the most intriguing. Those are the people that Drew and I still feel we are."
Are you intrigued by the mystery surrounding "Cabin in the Woods"? Tell us in the comments section below or on Facebook and Twitter.