WonderCon 2012: Brit Marling and Zal Batmanglij talk "Sound of My Voice" and "The East"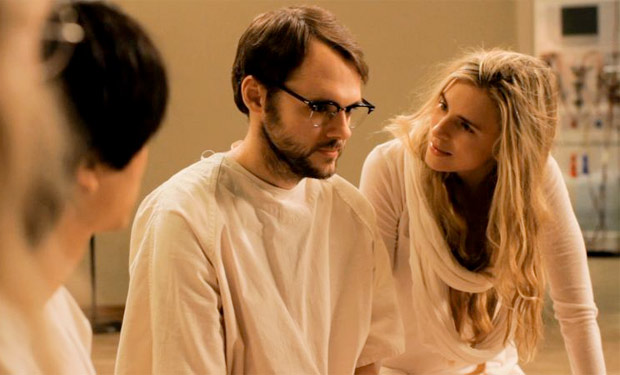 Posted by Terri Schwartz on
Fox Searchlight's "Sound of My Voice" kicked off the movies portion of WonderCon. The panel started with the same 12 minutes of footage, released last month, that end with Brit Marling's character Maggie telling the newest members of their cult that she is from the future.
Following that, two members of "Sound of My Voice's" "cult" encouraged fans to visit their booth in the WonderCon exhibit hall. Then director/co-writer Zal Batmanglij and star/co-writer Brit Marling took to the stage to introduce a new trailer for the movie (that ends up being a lot more foreboding than the footage released already) and chatted about the origins of the film.
After the panel, IFC had a chance to catch up with Batmanglij and Marling (almost exactly one year after we talked to them at SXSW) to chat about bringing "Sound of My Voice" to WonderCon, their journey with the movie and their upcoming film, "The East."
IFC: This is your first experience at a fan convention. What's your response?
ZAL BATMANGLIJ: Well, we're sort of straddling the line. We're more of a festival film, and so it's fun to be at something like this. We feel so honored.
BRIT MARLING: It's awesome to be in a room, any time you're in a room filled with enthusiasts and lovers of film, and in particular lovers of sci-fi because we love that genre so much, and most of the things we dream about and think of fall in that space. It's cool. It's cool to watch the first 12 minutes with an audience like that.
ZB: But I just want to go be a fan. I want to go see the "Prometheus" trailer. Can we do the interview there?
IFC: On paper, "Sound of My Voice" might not seem to have genre aspects, but it does have them. Can you talk a bit about the sci-fi elements of this film?
ZB: It's a film about someone who claims to be from the future, and the question is, is she or isn't she? And that's basically the conceit of the film. And so there's a lot of elements about the future that she talks about. She talks about what she imagines the future will be like. And so, with the whole genre element of time travel, and it's something that's interested us from the beginning. We always wanted to do sci-fi.
BM: Yeah, and I guess also sci-fi that feels in part more grounded in reality. There's something really exciting about watching something where the sci-fi, you really want to believe that it's real, not that you're just being seduced by special effects and spectacle. Sci-fi where the spectacle is in the imagination, that is appealing.
ZB: And I love a lot of smaller sci-fi films like "Primer." "Donnie Darko," one of my favorite films. And I think that "Sound of My Voice" falls into one of those types, like "Primer," "Donnie Darko," what else?
BM: "Primer" was so confusing, though. The thing about "Sound of My Voice" is that it's also just such a —
ZB: It's a thrill ride.
BM: It's a thrill ride, you're like following Peter, he's this skeptic. He and his girlfriend are making this documentary, trying to unravel this thing they're infiltrating. They're really like undercover spies telling these lies trying to get closer and closer, and as they get more into the center of this group, their relationship is tested, their film is tested, what they believe or don't believe is tested. So in that sense, it has more of a classic thriller thrust.
IFC: It is interesting that you say that Peter is such a skeptic, whereas Maggie is so invested in this. Where do you think you guys lie? Are you more a skeptic or willing to believe?
ZB: I think I'm more a skeptic. And the skeptic is the person who wants to believe more than anything.
BM: But needs the best proof, and is in search.
ZB: Yeah, he doesn't want to be let down, or she doesn't want to be let down, and I think that's sort of the thing is like, they're such believers, but it's like falling in love. Some people just, their heart's been broken and they never want to feel that again. The fear of another heartbreak keeps them from loving. And I think the fear of the heartbreak, that things are not magical, keeps a lot of people from believing in the unknown and in powers that we can't see or quantify.
BM: I think I'm more inclined to believe.
ZB: But she's also Maggie.
BM: [laughs] But I'm also Maggie. And, you know, if you act for a living, you're probably super inclined to just believe. And that was very easy for me.
ZB: But I think there's a real lack of belief in the world these days. Like, people want to believe really desperately, but it's getting harder and harder for people to believe.
IFC: Does the film have a definitive ending, or is it up for interpretation?
ZB and BM at the same time: There's a definitive ending.
ZB: But you the audience brings a lot to the table. I mean, that's why it's a smaller film. We don't spoon feed you everything. You have to bring things to the table.
IFC: Can you talk a little bit about the viral marketing campaign, like all the Los Angeles-based cult meetings?
ZB: I think [Fox] Searchlight and us were really into the idea that this was sort of an earthy movie, how do you have an earthy campaign for it? Like, it's a small film, why take a small film and do something really slick with it? Why not do something that's interactive and engaging with its audience. And I love that.
BM: And the story so lends itself to that, because it asks questions and it's asking questions of you, and also I think just that it being about a cult, you know, it kind of asks if you want to come in and join it, and so we've been having fun with that.
IFC: Have you guys gotten a good response to it, because it's been sort of under the radar?
ZB: We want everything to be under the radar, because it's so cool for things to be discoverable. Like, what a pleasure to like stumble upon something on the Internet. If you go next week, and your readership has no idea that this exists, and you can sort of share it with them and, like, we're not shoving it down anyone's throat. A journalist came a couple weeks ago and was like, "Oh well, I can't believe you guys are all doing this for marketing." And I was like, "Trust me, the like 10 people that are coming to these meetings aren't swaying the marketing for us." It's fun.
BM: I mean, we are just doing the things that we want to see done. Like, I want to go to the theater or hear about a film coming out and like get involved in the narrative. I want it to be interactive. I think we're at a space now where a lot of people are watching movies but we're also iChatting at the same time and responding to emails and texting, and so there's this ability to branch out, and we felt like it's cool if we can take the story into the real space. If there's like a way in which you can become part of the experience rather than just it beginning and ending in the theater.
ZB: And that's what's cool about making your first film or when you're an actor that isn't that recognizable is that you can do these things. These guys haven't even seen "Prometheus," it's not even based on anything, and they're so excited.
IFC: When we spoke last, I believe you guys were still shooting "The East," which you have since wrapped. So what did you guys learn from "Sound of My Voice" that you feel you brought to "The East"?
ZB: You learn to trust yourself more. I think that's the thing. When you're making "Sound of My Voice," you're like, "Oh, I'm making this just to make it," and then, two years later, I still have to live with it, so you're saying it might as well be something that you really are proud of, and so you say, "Okay, I'm going to fly my freak flag loud and proud. I'm going to make the movie that I want to make." I think that's important.
BM: I think the thing that we always learn again and again is, whatever the ideas are behind it, they have to be really sustaining again. They have to sustain you through the writing period, the research period, the rewriting period, the trying-to-get-financing period, the making of it —
ZB: The publicity period [laughs].
BM: — and then talking about it for a year afterwards. So that's like a huge trajectory.
ZB: The DVD release!
BM: The DVD release [laughs]. We'll be talking about this years from now! So it better be a good idea, you know, because you're going to be living with it for a while. And it better keep intriguing you and keep asking you to ask yourself hard questions. And I think we really found that in "Sound of My Voice" and "The East," which is exciting.
ZB: Yeah, projects have their own fuel cells, and we just hitch our wagons to them and go along for the ride. Seriously, that's what it feels like.
"Sound of My Voice" hits theaters April 27.
Do you agree with Marling and Batmanglij's assessment of what makes a movie work? Tell us in the comments section below or on Facebook and Twitter.