Brad Bird is "gratified" by the continued popularity of "The Iron Giant"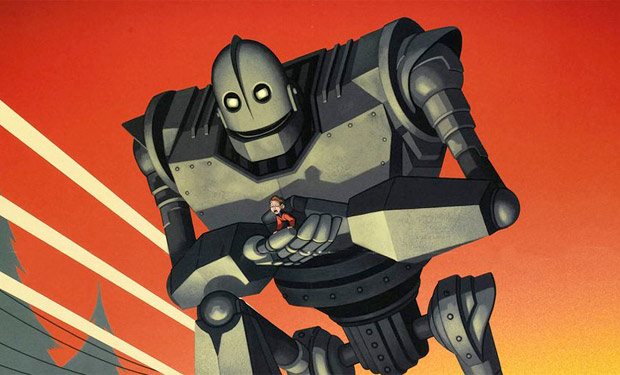 Posted by Terri Schwartz on
It's hard to believe that it's been 13 years since "The Iron Giant" first charmed audiences in theaters. The movie launched the career of beloved filmmaker Brad Bird, who has gone on to write and direct such projects as "The Incredibles" and "Ratatouille," as well as helm last year's "Mission: Impossible — Ghost Protocol" (his first live action feature).
"The Iron Giant" is being honored with a charity screening tomorrow at the Los Angeles Animation Festival, and Bird and actors Christopher McDonald and Eli Marienthal are expected to be in attendance. IFC had the chance to catch up with Bird in anticipation of the screening to talk to him about "The Iron Giant" more than a decade after it was first released.
IFC: You must be excited about "The Iron Giant" screening tomorrow night at the Animation Festival.
BRAD BIRD: It's so awesome getting an opportunity to see it again on a large screen with an audience.
IFC: Did you expect that this film would be as popular now as it was when it came out?
BIRD: That's what you hope for. You want these things to last. I think all of us who made it are gratified that it has.
IFC: Vin Diesel did the voice for the Iron Giant in his pre-"Fast and the Furious" and "Riddick" days. Do you guys still talk?
BIRD: No, I haven't talked to him in a long time, but I'm happy that he's gotten the great career that he has, because I got along great with him, and he was very easy and good to work with.
IFC: How was the casting process different for this film than it was for, say, a live action film?
BIRD: It was different for every one of [the cast members]. I oftentimes kind of hear voices in my head and sometimes they're famous people and sometimes they're not, and sometimes they're a little bit famous and sometimes they're somebody that is about to be famous. I don't really cast for any sort of marquee value, I cast because I think they're right for it.
In the instance of Harry Connick [Jr.] in the first recording session, he kind of put on a beatnik voice and we tried it for about five minutes and I said, "How would you say this?" And he said, "Well I'd just say dah duh dah duh dah," and he had this great sort of New Orleans-tinged lilt, and it sounded effortlessly cool. And I just said, "Just do that." And it worked great. Even though I hadn't thought of the character as having any kind of subtle accent, it made him an outsider — you know, since the film is set in Maine — and it made him very subtly vocally — I mean visually, he's very much an outsider — made him an outsider in a way that was unexpected and terrific.
I was just really happy with our voice cast. I think Jennifer [Aniston] did a fantastic job, and I think Chris McDonald was perfect as Kent Mansley, and we had a wonderful child actor in Eli Marienthal, and I was just happy straight down the line. Vin, as you said, was not well known at that time, but he had made a short film called "Multi-Facial" that I had seen and he was versatile, but he had this sort of rumble that just sounded powerful and yet sympathetic.
IFC: How would you say animated filmmaking has changed since you did "The Iron Giant"?
BIRD: At the time that "Iron Giant" was done, Disney was considered really kind of the only place that could be really successful at it. I mean, Pixar was successful. They had done like two films at that point. Pixar's second film, "A Bug's Life," came out the same year as "Iron Giant." Because that was released by Disney, that was kind of included under the Disney umbrella. Now I think people think very differently about animation. Many different studios have had successful animation releases, and it's considered more a part of the mainstream movie diet than it was when we made "Iron Giant."
IFC: Would you ever make a sequel to it?
BIRD: I don't think so. I think that the story is pretty much complete as it is, even though it suggests something beyond the film at the end. I kind of think that that's the story that we set out to tell and we told it. But I do, you know, think about doing other animated films.
Do you plan on checking out "The Iron Giant" in Los Angeles tomorrow? Do you think the film has aged well? Tell us in the comments section below or on Facebook and Twitter.