"Bill & Ted 3" script is done, awaiting greenlight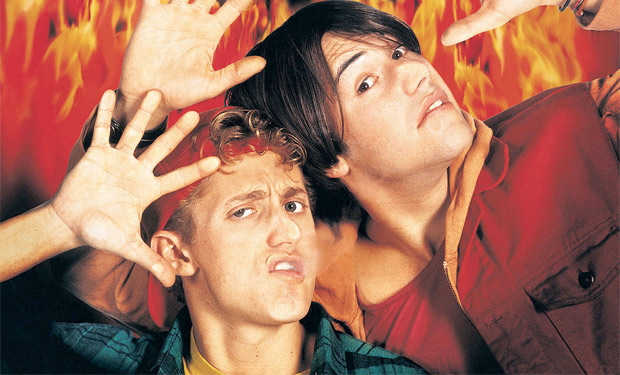 Posted by Terri Schwartz on
This is most excellent news. After much talk and speculation, it seems as though a third installment in the "Bill & Ted" saga is actually going to be coming together.
The news comes from actor Alex Winter who played the titular Bill in the previous two "Bill & Ted" movies. When asked on Twitter if "Bill & Ted 3" is actually going to happen, he responded, "Script done? Check. -We love it? Check. -Green light? Working on it!"
Leading man Keanu Reeves made similar comments in a recent interview. When asked what the status on "Bill & Ted 3" was, he gave the project his stamp of approval.
"Yeah, we have a script. We're trying to put it together. It's a good script too," he told the Independent.
While we're thrilled that they're happy with the script, it does kind of feel as though the script has been worked on forever, especially since it's been more than two decades since "Bill & Ted's Bogus Journey" hit theaters. In the previous films, Bill and Ted went to the past and then the future (and even through the afterlife) all to save humankind in the name of rock 'n roll. It's unclear what "Bill & Ted 3" will specifically be about, but Reeves did offer an update to MTV a year ago about the movie's general premise.
"When we last got together, part of it was that Bill and Ted were supposed to have written the song that saved the world, and it hasn't happened," he said. "So they've now become kind of possessed by trying to do that. Then there's an element of time and they have to go back."
Are you looking forward to a "Bill & Ted 3"? Tell us in the comments section below or on Facebook and Twitter.